You've heard of using essential oils for fighting off a cold, or healing a burn, or to clean.
But, where do you begin? Which oils are truly must haves for beginners?
Which essential oils are used for what?
You want to try a few to get started but have no clue which essential oils to buy first.
This is a straightforward guide to the 6 essential essential oils that I use the most in my home.
Let's jump in!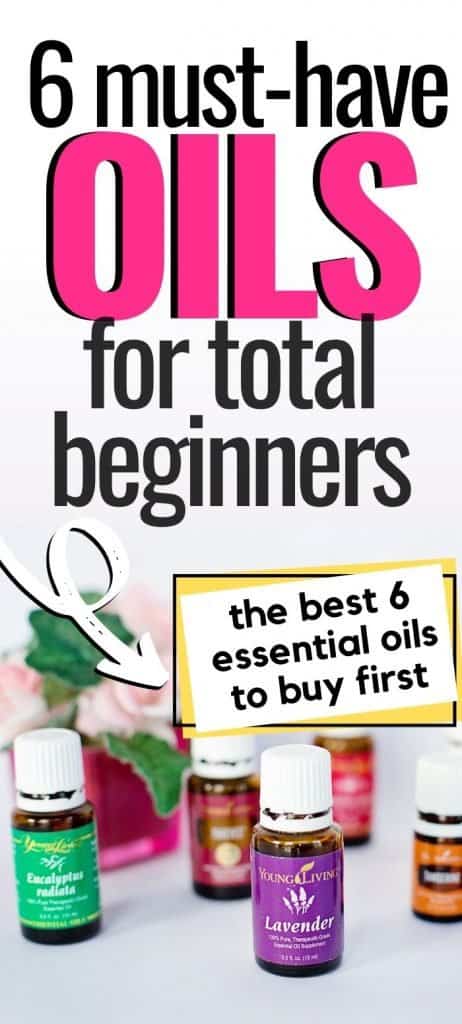 Essential Oils to Buy First: Must Haves for Moms
Transitioning to taking care of your family in a holistic (ahem* natural) way can be overwhelming and expensive.
After 4 years of using essential oils, I have narrowed down which essential oils are truly essential. These are the oils that I have purchased again and again because I actually use them enough to run out.
And, I've found a few different companies that you can trust. Spoiler alert: there is no ONE essential oil company that THE best.
Let's start with the most versatile essential oil – lavender.
#1 Lavender
What is lavender oil good for?
Everything. Ha! Well, maybe not quite everything but lavender is known as the swiss army knife of essential oils.
Here are some of lavender's top benefits:
It helps with anxiety, depression, and stress.
Antimicrobial – powerfully fights and protects against infections.
Skin soother – great for burns, dry skin, scrapes, cuts, and canker sores
Improves sleep
Decreases pain
Helps with various respiratory problems like cold, flu, whooping cough, asthma, bronchitis, etc.
Fights acne and heals acne scars
How do I use it most?
I find myself reaching for lavender to diffuse at night for better sleep, when I have a headache, if I have a burn, when I want help relaxing, and to improve low mood.
A few recipes with lavender that I love:
Calming Hives in Littles – Recipe 3 (I started using this when I had grief-induced hives but have continued using it as a lotion – my skin looks great!)
Diffuse a blend of Lavender, Peppermint and Lemon (LPL) or dilute LPL (use this dilution chart) and apply topically to help with seasonal allergies, sniffles during season changes, or improved mood.
Cloth Wipe Solution

2 cups water
1 tablespoon Dr.Bronner's castile soap
4 drops lavender essential oil
1 tablespoon olive oil
#2 Peppermint
What is peppermint oil good for?
Peppermint is another excellent multi purpose oil.
Peppermint has the ability to:
Prevent nausea, vomiting and any other gastrointestinal issues
Help with headaches
Reduce fever
Clear sinuses
Relieve joint pain
Boost energy
Soothe itches and dandruff
Relieve seasonal allergy symptoms
Improve concentration
How do I use it most?
I find myself reaching for peppermint oil most during cold and flu season, for tummy trouble, and for increased energy and alertness in the afternoons. (I diffuse lavender, peppermint, and lemon almost every afternoon while I blog during naptime.)
A few of my favorite recipes with peppermint:
Foaming Hand Soap (recipe is from Traditional Cooking School)

1 foaming hand soap dispenser
water
2 tablespoons liquid castile soap
1 teaspoon liquid oil such as almond, avocado, grapeseed, or olive
10 to 15 drops antibacterial essential oil such as lavender, peppermint or blend

Chest Rub for Cough and Cold – Recipe 1

Equal parts peppermint, lemon and eucalyptus diluted in coconut oil. PLEASE go to Tisserand Institute's site and use the dilution chart to make this rub. Mommypotamus also has a great dilution chart that you can refer to.

Headache Roll-on Blend

2 drops peppermint oil
2 drops lavender oil
Fill roller bottle with 10 ml carrier oil (fractionated coconut, grapeseed, apricot kernel, or sweet almond oil)
#3 Lemon
What is lemon oil good for?
Lemon is an excellent cleaner, mood booster, and immune system support.
Some of lemon oils benefits are:
Mood booster – creates positive feelings and overall better mood
Boosts energy
Deodorizer
Immune system support
Clear sinuses and relieves asthma symptoms
Aids weight loss by diminishing cravings
Disinfectant and degreaser
How do I use it most?
I mostly use lemon oil to wash fresh produce, in the Lavender/Peppermint/Lemon diffuser blend for immune support and help with sinuses, and in the blend referenced above that is intended for hives that I now use as a lotion.
A few recipes with lemon that I use:
Produce Soak

Fill a large stainless steel bowl (or your kitchen sink) with water then add 2-5 drops of lemon essential oil and ½ cup vinegar. Add produce and let soak for 20-30 minutes to remove wax and chemicals off of produce. (This helps me feel a little better about buying non-organic apples, peppers and other produce that I can't afford.)

Thieves and Lemon Cleaning Wipes

Fill a container with 2 cups of water, 1 capful Thieves household cleaner, and 5 drops lemon essential oil. Mix then add reusable cleaning cloth wipes.

Degreasing Deep Cleaning Spray (recipe from One Good Thing)

2 cups warm water
2 tablespoons baking soda
2 teaspoons castile soap
20 drops lemon essential oil
#4 Eucalyptus
What is eucalyptus good for?
Eucalyptus is my go-to essential oil for colds and any sinus issues. But, eucalyptus can do far more than just help with clearing sinuses.
Eucalyptus oil is good for:
Its antibacterial properties
Strengthening the immune system
Treating any respiratory problems
Treating fungal infections naturally
Reducing fever
Dental care
Joint/muscle pain
Boosts mental clarity
How do I use it most?
I have used eucalyptus in many different ways for many, many colds – I love this oil for treating colds.
Two recipes with eucalyptus oil:
Chest Rub for Cough and Cold – Recipe 2

10 drops eucalyptus oil
10 drops peppermint oil
5 drops lavender oil
Dilute with coconut oil according to this dilution chart by Tisserand Institute or Mommypotamus' for quick reference.

Cough and Cold Diffuser Blend

5 drops eucalyptus
5 drops peppermint oil
2-4 drops lavender oil
Please check your diffuser's manual for a better ratio of oils to amount of water. This recipe would be much too strong for a 100ml diffuser, for example.
#5 Thieves / Immune Strength / OnGuard / Germ Fighter
*For the sake of clarity, I'm going to be calling all of these similar blends Thieves.
Thieves oil is a blend of lemon oil, eucalyptus oil, clove oil, rosemary oil, and cinnamon bark oil.
What is Thieves oil good for?
Thieves is a blend that's good for boosting your immune system and fighting off illness.
It's most notable benefits:
Reduces fever
Anti-inflammatory
Improves respiratory health
Germ killing all-in-one cleaner
Kills mold spores
How do I use it most?
I diffuse Thieves in the house anytime we have been exposed to sickness (ex. after going to a playdate, doctor's appointments, been around someone that's sick), when coming down with illness (I rub diluted Thieves on our feet and along the spine after taking a detox bath), and I use it to clean everything in my home.
A few of my go-to recipes with Thieves oil:
Foaming Hand Soap (recipe is adapted from Traditional Cooking School)

1 foaming hand soap dispenser
water
2 tablespoons liquid castile soap
1 teaspoon liquid oil such as almond, avocado, grapeseed, or olive
15 drops Thieves essential oil

$12 DIY Thieves Essential Oil Blend (recipe with measurements on Beauty in the Crumbs)

15ml glass bottle
Clove oil
Lemon oil
Cinnamon oil
Eucalyptus oil
Rosemary oil

Thieves Cleaning Spray (you can use Thieves Household Cleaner or make this spray with any brand of "Thieves" oil) – recipe from Pure Thyme

Basic Thieves Cleaner – 1 drop of Thieves oil per ounce of water (1 drop per ½ ounce for stronger solution)
Variation 1 – ½ Cup water, ½ cup vinegar, and 8-16 drops Thieves
Variation 2 – 1 cup water, 2 teaspoons castile soap, 8-16 drops Thieves
#6 Clary Sage
What is clary sage oil good for?
Clary sage is good for women's reproductive health, fighting depression, and relaxation. Clary sage oil isn't talked about a whole lot but I think it should be!
Here are some of clary sage oil's benefits:
Fights depression
Relieves spasms
Prevents bacterial infections
Boosts libido
Regulates menstruation, reduces menstrual cramps, and relieves PMS symptoms
Helpful during postpartum recover
Stimulates contractions during labor
Can induce labor naturally
How do I use it most?
I use clary sage every month at the start of my period, I used clary sage to help start labor and then during labor to support strong contractions, and afterbirth I used clary sage to help my body recover. I personally don't find the smell of clary sage to be very sexy so I haven't used it much in that regard…
Recipes using clary sage:
That Time of Month Diffuser Blend – recipe from Diffuser Blends

6 drops of Clary Sage
4 drops of Lavender
2 drops of Frankincense

Labor Massage Oil – recipe from Mama Hippie

2 Ounce glass dropper bottle
7 drops clary sage
3 drops lavender
2 drops ylang ylang (if you don't have this, skip it! Add 2 more drops of lavender.)
Fill roller bottle with carrier oil like fractionated coconut, grapeseed, apricot kernel, or sweet almond oil

Postpartum Vaginal Spray (you could also use this blend to soak pads to freeze like I did) – recipe from The Eliott Homestead

6 tablespoons witch hazel
3 tablespoons aloe vera gel or juice
3 drops clary sage
6 drops frankincense (I used lavender instead because I didn't have frankincese)
4 tablespoons filtered water
Glass spray bottle if using as a spray
Bonus #7 – Frankincense (if you can afford it – but, I never have)
What is frankincense good for?
As my mother-in-law says, "when in doubt – frank it out!" Frankincense is a powerful oil that can be used for many things. Thus far, I haven't personally owned a bottle of frankincense because it is rather expensive and I think I get along just fine with my top 6.
Frankincense is an antiseptic, disinfectant, astringent, carminative, cicatrizant, cytophylactic, digestive, diuretic, emmenagogue, expectorant, sedative, tonic, uterine, and a vulnerary substance. (source) Now that's a mouthful!
Here are some of frankincense oil's many benefits:
Boosts immune system
Improves oral health
Natural astringent
Regulates menstruation
Reduces scars
Helps with digestion
Boosts and improves every system in the body
Helps with respiratory issues
Relieves stress
Supports women's reproductive health
Speeds healing process
How do I use it most?
My mother-in-law says that anytime she is feeling a cold coming on she will put a drop of frankincense oil in a spoonful of honey and wakes up feeling perfectly well, I've heard of women healing stretch marks with frankincense oil, and I know that it's been scientifically proven to improve the health of every system of the body.
Maybe I should bite the bullet and buy myself a jar!
Where to Buy Must Have Essential Oils for Beginners
Over the last 4 years, I have tried a handful of different essential oil companies and have found a few that I recommend. I do not currently sell essential oils from any of the following companies.
Young Living – MLM Company
Young Living was my first love in the essential oil world. And, I still love Young Living! I think their essential oils are top-notch – I love their seed-to-seal promise and that you can visit their farms. Their essential oils are high quality and I trust these oils purity.
The downside of Young Living: Their oils can be too expensive for my budget.
DoTerra – MLM Company
DoTerra essential oils have been used in my home a time or two. I've just honestly never known anyone that I could order through so that I didn't have to become a member (once again, too pricey). But, my mother-in-law's cabinet is filled with DoTerra essential oils that I think are very high quality. She has had a great experience using DoTerra's oils.
The downside of DoTerra: Oils are expensive and they offer fewer oil blends and singles than Young Living.
Rocky Mountain Oils – NO affiliates or MLM
Rocky Mountain Oils is a company that I have trusted for a few years now – I believe that their oils are high quality and are third party GC/MS tested twice for purity. Their essential oils are priced similarily to Young Living but are always at least a few dollars cheaper.
The downside of Rocky Mountain Oils: nothing that I can think of. FYI: They offer a 90-day product return if you end up unsatisfied with the essential oils.
Plant Therapy – NO affiliates or MLM
I am very new to Plant Therapy's essential oils but I have heard countless positive reviews from trusted oily friends. Plant Therapy (like RMO and Eden's Garden) does not participate in MLM and strives to keep essential oils prices low while maintaining pristine quality. All oils are GC/MS tested and results are posted on each essential oil description. So far, I am loving their essential oils and will continue to buy from them.
The Must Have Essential Oils for Beginners Are Multipurpose, Affordable, and Easy to Use
I hope that reading through the benefits, usage tips and helpful information about my top 7 essential oils for beginners was helpful to you! Go to Organic Facts to learn more about essential oils and their benefits.
Related Posts: