…do you not know that wrongdoers will not inherit the kingdom of God? Do not be deceived: Neither the sexually immoral nor idolaters nor adulterers nor men who have sex with men nor thieves nor the greedy nor drunkards nor slanderers nor swindlers will inherit the kingdom of God. And that is what some of you were. But you were washed, you were sanctified, you were justified in the name of the Lord Jesus Christ and by the Spirit of our God.


1 Corinthians 6:9-11, NIV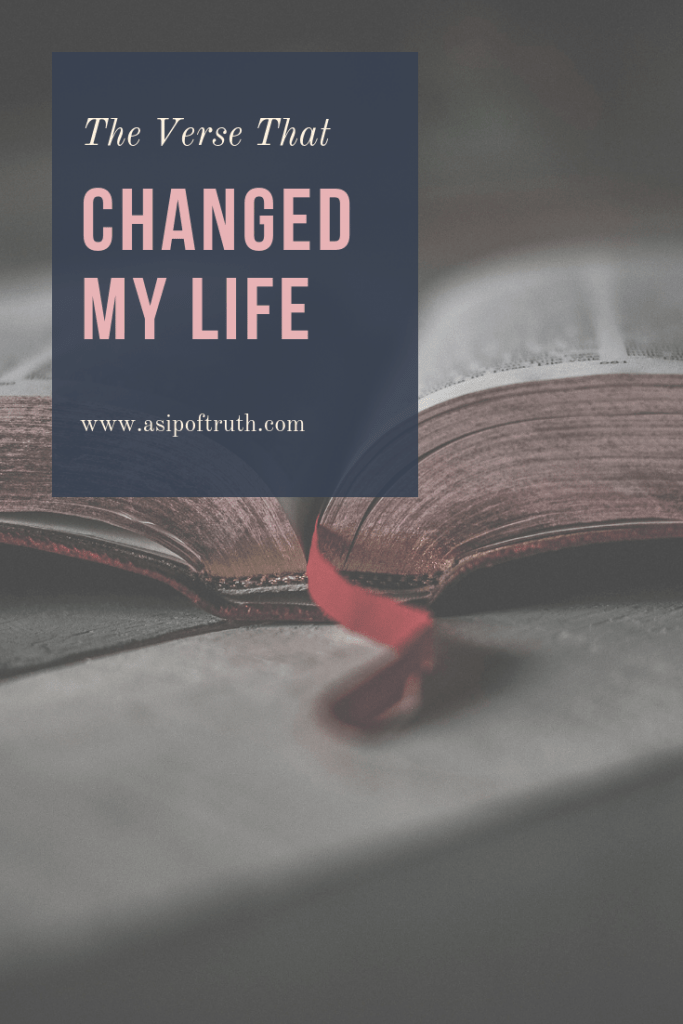 Who I Was

I grew up in a Christian home, became a Christian as a little girl, and was raised knowing right from wrong. I was taught that stealing is wrong, being greedy is wrong, that Christians are not supposed to get drunk, that cheating is wrong, that Christians do not have sex before marriage, and to never misuse the name of God. Of course, there are many more things that could be added to the list of things one should and shouldn't do. Growing up, I thought I was good. I could run down the checklist of thou shalt not's and come off looking pretty perfect. But, internally I danced on the line of right and wrong.
I walked as close to the line of wrong as I could while still being justifiably pure.
I could go down my spiritual checklist and mark myself a good girl. I thought that my greed was fine because others are more greedy. I thought that foreplay without intercourse meant I was sexually pure. I thought that I could live a double life because who would know as long as I kept my stories straight. I blamed my youth for making wrong choices, thinking I could get real with God later in life.

Regardless of how good I thought I was doing, the truth is; I was sexually immoral, I was a thief, I was an idolator, I was greedy, I was a drunkard, I was a slanderer, I was a swindler.

We are constant sinners; how can people like us be saved? We are all infected and impure with sin. When we display our righteous deeds, they are nothing but filthy rags.


Isaiah 64:5b-6 , NLT
The law of right and wrong had nothing to do with Christianity and everything to do with me trying to squeeze myself into the good girl mold. I tried to be the good girl that I thought God wanted me to be. That was before I was sexually assaulted. After that, in my mind, any chance of being good was gone. I used to label myself as innocent, good, honest, righteous. After my purity was taken from me, I labeled myself as stupid, worthless, damaged, unclean. It felt like there was nothing I could do to feel any lower than I already was. This is who I was.
But I Was Washed
I was 17 when I went to Timberline Lodge Bible School (a one year Bible school). By that point in time, I was deep in my rebellion against God. I hated who I had become but didn't know how to get back into the rest and comfort that God's grace provides. I had spent the last couple of years numbing myself to cope with my guilt, shame, and loneliness. Timberline is where God met me and changed me.
I learned so much about myself and that my guilt belonged on the cross. Jesus paid for my sins and that meant I did not have to carry them with me. God went to work on my heart cutting away the infection of my sin. God's word was like a salve on my open wounds.
I learned that He could wash me. God is the only one that can cleanse my soul. Over and over, he has washed me and told me who He says I am.
I am as clean as the One who paid for me.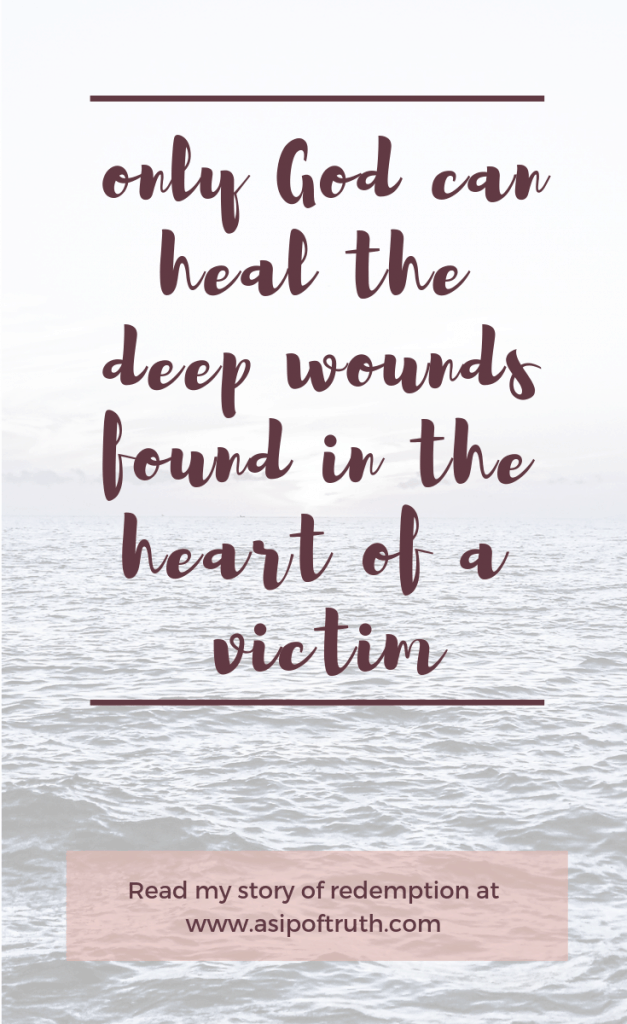 I Was Sanctified
To sanctify someone or something is to set that person or thing apart for the use intended by its designer. A pen is "sanctified" when used to write. Eyeglasses are "sanctified" when used to improve sight. In the theological sense, things are sanctified when they are used for the purpose God intends. A human being is sanctified, therefore, when he or she lives according to God's design and purpose.

Bible Study Tools
After being washed, I needed a purpose. I was clean, now what? God continued His work in me by sanctifying me. I started to live by God's design.
I didn't drink anymore, not because I wasn't supposed to but because being in His presence gives me all of the comfort and shelter that I need.
I didn't need sex and outward beauty to have worth anymore, His word tells me that I am worthy because I am His.
I didn't need to hide from God anymore, because He chooses to be there in the mess with me so that I can walk out of it with Him.
I didn't need to have secrets anymore, He listens to me and gives me safe people to confide in.
I Was Justified
Justification is the declaration of being in right standing. The verb translated "to justify" clearly means "to declare righteous." (Source) After I was cleansed and sanctified by God, He justified me. He tells me that I am justified because of who I am in Him.
Romans 3: 19-26, following Old Testament law does not make us right with God, it just proves that all of us fall short of the glory of God. We are justified freely by his grace through the redemption that came through Christ Jesus.
Romans 5:6-11, we are reconciled to Him because of Jesus' death and resurrection.
Galatians 3:21-27, the law was made to lead us to Christ so that we can be justified by faith.
He Came for Me
At just the right time, when we were still powerless, Christ died for the ungodly… God demonstrates his own love for us in this: While we were still sinners, Christ died for us. (Romans 5: 6-8, abbreviated)
God met me where I was so that I could walk out of that place with Him. He heard my cries and lifted me out of the mess that I was in. He gave me firm ground to stand on and a new song to sing. (Psalm 40: 1-3) He saw all of me and still wanted me.
So yes, that is who I was. But then God! He washes me, he justifies me, and he sanctifies me in the name of Jesus and by the Spirit. Praise God because He saved ME!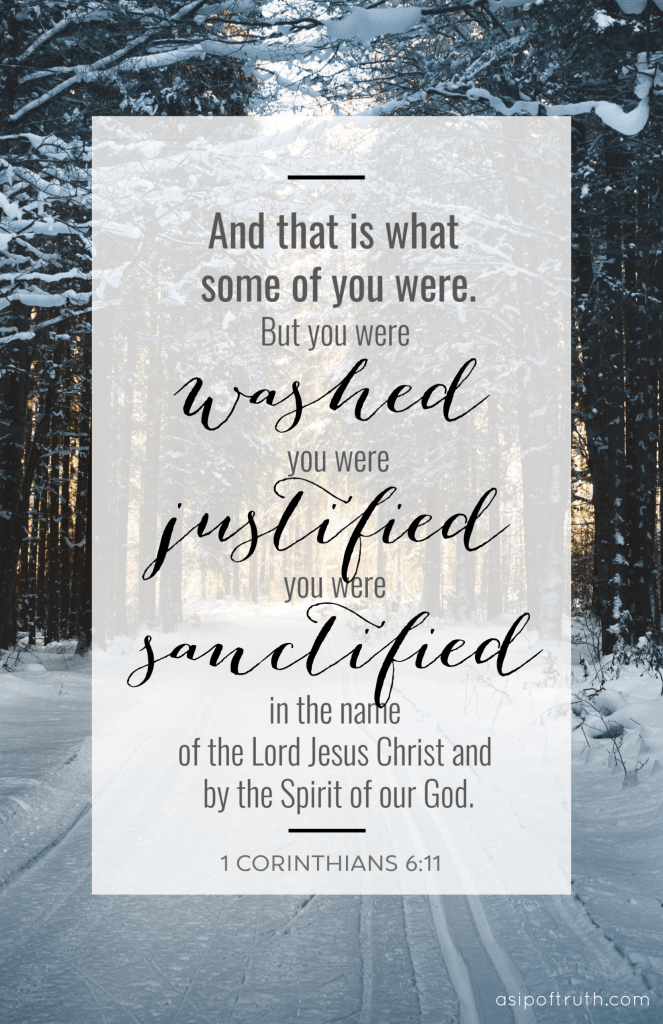 What is your favorite verse?
Please, email me or comment below with your story. I would love to hear how God has changed your life! I pray this encourages you and reminds you of who you are.
Related Page… About Me