Pregnancy back pain got you down? SPD pain? I've got you covered.
Today, you'll learn the 8 best tips for natural back pain relief during pregnancy.
Many of the clickable links on this page are affiliate links. That means, I receive a small commission for each item you buy through my link at no additional cost to you.
I am not a medical professional. You can read my full disclaimer by clicking here.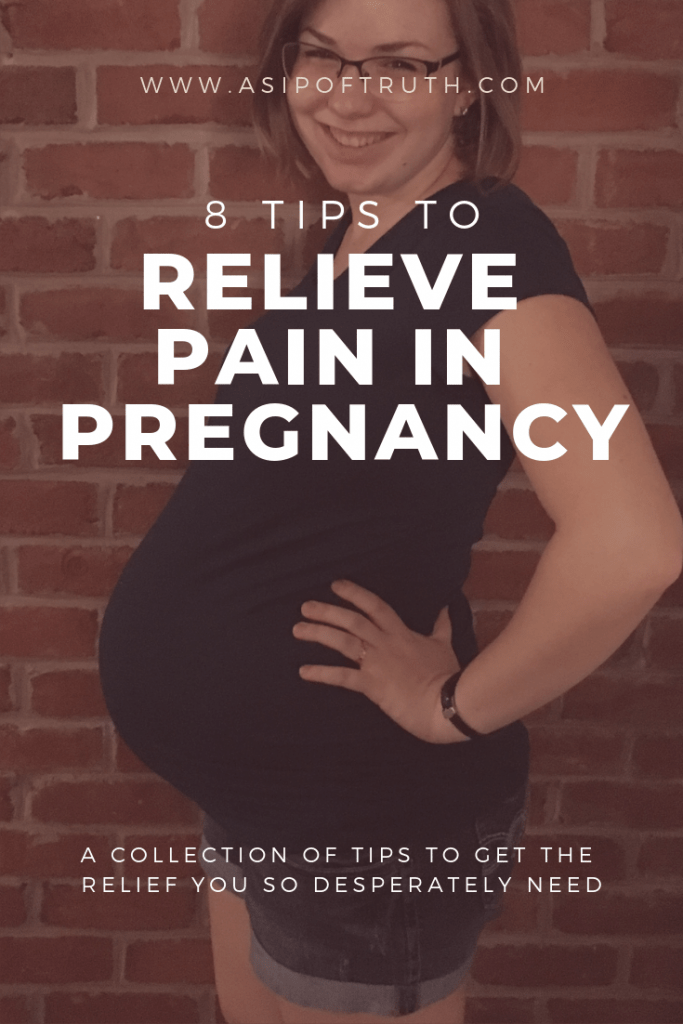 How to Relieve Back Pain During Pregnancy Naturally
I experienced my fair share of pregnancy pains while I was pregnant with my daughter, and I eventually found some helpful solutions.
Hip, back, rib, foot, pelvic, neck, and every-area-of-your-body pain does not have to be the mark of your pregnancy.
These tips are what helped me thrive, in spite of the pain, during my pregnancy.
1. Receive Frequent Chiropractic Care
After every chiropractic adjustment during pregnancy, I felt like I could breathe again and my entire body felt so happy!
I recommend going to the chiropractor at least as often as your OBGYN appointments. If your OBGYN appointments are 4 weeks apart, go to the chiropractor every 4 weeks. Once they are down to once a week, go to the chiropractor once a week.
Find a chiropractor that is Webster Certified or specializes in prenatal treatment. The International Chiropractic Pediatric Association (ICPA) has a helpful search engine to find a certified chiropractor. I found lots of information on their website about the Webster technique as well.
You can be injured by an inexperienced chiropractor due to the high amount of relaxin (a hormone released during pregnancy). Invest in quality care; it's worth every penny.
2. Exercise with MommaStrong
MommaStrong has changed the way that I think about myself and the way that I think about exercise. I feel so much stronger and healthier since starting MommaStrong. My body feels like it is working with me, rather than me working it until it collapses.
MommaStrong is an online exercise program designed for moms. The program has an emphasis on core stability and pelvic floor care.
It costs $5 a month for 15 minutes of daily at-home workouts to gain strength, sanity, and celebrate small victories (like that your back doesn't feel like it's breaking.)

MommaStrong is a fitness program engineered to teach you about your body and how to gain strength from the inside out. Every day is a new adventure with new problems to tackle and new victories to celebrate.

And don't expect to just get a series of workouts. You will also learn about your anatomy and why it does what it does.

MommaStrong About Us Page

Your monthly membership includes access to live Q&A sessions with Courtney (founder), the MommaStrong Facebook group, an accountability partner or group, and daily inspirational emails.
You'll also get:
Daily videos: that will give your body just the right amount of movement to feel oh-so-good.
Fix-Me's: these videos cover just about every area of your body (or mind) that could be hurting.
5 Minute Hacks: these shorter workouts are designed to get you in-and-out in a flash. (And, they pay special attention to what you're needing that day. Feeling run down? Do the "Not so Hot" hack. Don't have time but want to get your heart rate up? Do the "All Out" hack. Catch my drift?) The "I feel broken" fix-me is my #1 go to for pregnancy pain relief.
Specialized courses: these sequences help with specific issues such as incontinence, prolapse, diastasis recti, stomach pooch, and more.
I needed a professional to tell me how I could move safely and what would help my pain. Find movement that feels good for you during this time. But for me, MommaStrong is the answer.
3. Stretch and Do Yoga Regularly
Yoga and stretching saves my butt during pregnancy, literally. I have two go-to's for this on YouTube.
Anything on the Yoga with Adriene channel. SO. GOOD.

Adriene is down-to-earth, friendly, and inviting. Her channel is perfect for yogis of all skill levels. (even for me, the inflexible, beached-whale-during-pregnancy type)
I really appreciate that her channel focuses strictly on yoga and the body without introducing spirituality.
Yoga with Adriene has yoga series or you can bounce from one video to the next depending on your needs and time.

I used this video by Diana Antholis daily during pregnancy and noticed a big difference in how I was feeling after doing it. It is only 10 minutes long and feels great!
Please, use caution when stretching and be gentle with yourself. You have high amounts of the hormone relaxin in your body during pregnancy and you can hurt yourself by overstretching.
4. Take Naps
Sleeping through the night can be challenging for pregnant women; make up for lost time with a nap.
Naps help recharge your body and can help your baby to grow.
Retrain your thought patterns about naps; replace your guilt of not being productive with positive thoughts about what you are doing. While you nap, you could be helping your baby make a lung, eyes could be forming, or a heart is beating for the first time.
Allow yourself to rest. (100% preaching to myself, too, on this one.)
5. Use a Supportive Band and Kinesiology Tape
If you are dealing with hip, back, and/or pelvic pain during pregnancy, I HIGHLY recommend using the SI Loc Band or something similar for support.
The SI Loc Band was a total gamechanger during my pregnancy. I could manage daily activities, such as walking, with the band on… without it, not so much.
Kinesiology tape can also be used just about everywhere on your body for pain relief during pregnancy.

I loved taping my belly for support! I really liked that the tape didn't have to be taken on and off repeatedly.
"This taping method gently lifts the layer of skin and attached tissue covering a muscle so that blood and other body fluids can move more freely in and around that muscle," says Stephanie Crawford on Science How Stuff Works.
You can read more about products that I use for pregnancy back pain in my post The Best Products for Hip, Back and Pelvic Pain During Pregnancy.
6. Take Baths
I love, love, love soaking in a nice bath. During pregnancy, I took a bath most nights to help with back pain.
It helps to add Epsom salts and essential oils to your bath for added relaxation and pain relief. But, DO NOT add essential oils directly into the bathwater. First, mix the essential oils into the Epsom salt. Then, add the oiled Epsom salts to your bath.
Best pregnancy bath tip? Buy one of these. Not even kidding, this thing is the bomb dot com for taking a good bath.
7. Use Essential Oils
Here are my go-to essential oils for pain relief during pregnancy:
Deep Tissue Oil by Natural Hope Herbals:
Warming (and perfectly tingly) massage oil
Relieves muscle discomfort
Herb-infused olive oil with added wintergreen and peppermint essential oils, as well as menthol crystals
This stuff is absolutely amazing when it comes to relieving tension in the body and relieving pain. I'm talking within 20-30 minutes I can have immense pain relief, fewer muscle knots, and relief from tension headaches.
Lavender:
Natural pain reliever
Enhances sleep
Boosts and/or relaxes mood
Great for skin
Diffuse Lavender and Cedarwood together for added sleep benefits
You can read more about lavender essential oil here where I explain how I use it and where you can buy it affordably.
Stress Away Young Living Blend:
Stress Away has a warm citrus vanilla scent.
This blend features lavender, cedarwood, and copaiba for pain relief and feelings of wellbeing.
The citrus scents in Stress Away can provide relief for nausea.
8. Boost Nutrition to Relieve Aches and Pains
Avoid inflammatory foods and instead, fill your body with life-giving foods. (Inflammation leads to pain in the body.)
Things you will want to avoid:
Sugar
Processed Meats

deli meat
hot dogs
artificial meats, like "fake" chicken nuggets

White flour, bread, and pasta
White potatoes
Soda
Enjoy eating anti-inflammatory foods that will soothe your body:
Raw olive oil
Bone broth
Fish
Avocados
Nuts
Fruits and veggies
Read more about clean eating during pregnancy.
Common Misconceptions about Pregnancy Back Pain Relief Ideas
Misconception 1: Naps for not for adults.
False. According to Brene Brown, "Rest and play, are as vital to our health as nutrition and exercise."
I have a hard time with this myth. I would often tell myself (aloud if I needed reinforcement) that even if I didn't think I "earned" a nap that my baby deserved for me to nap and take care of myself.
Misconception 2: My diet doesn't affect my pain.
Good nutritional choices are important for growing a healthy baby and supporting your body.
The eating for two rule has been shown to be unnecessary and a cause for excess weight gain. You only need to eat roughly 300 extra calories per day during pregnancy. (Source)
Sugar, processed foods and white bread/pasta have been known to cause inflammation in the body. (Source) Nourish your body and your growing baby through eating healthy balanced meals.
Misconception 3: Exercise will hurt me.
Gentle daily exercise will keep your mind and body in ultimate health. Daily movement is great for your body!
Find what feels good for your body. Try stretching, yoga, walking, swimming, or a guided low-impact exercise led by a professional trainer.
Misconception 4: I have to suffer through this pain.
Replace this negative thought with the positive; I can find healthy pain solutions to support my body while my baby grows. There are countless solutions for relieving pain and discomfort during pregnancy, like the ones above.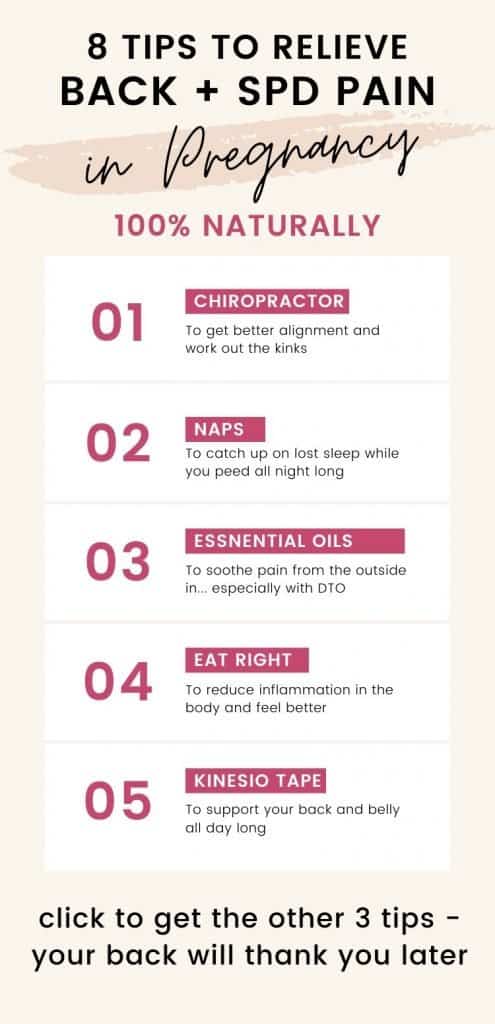 The Last Thing You Need to Know about Naturally Relieving Pain During Pregnancy
Each and every pregnancy is different, even from one pregnancy to the next! Be gentle with yourself as you endure the aches and pains of motherhood. Lean into your instincts and find what feels good for you.
Related Post: 5 Products that'll Save Your Back During Pregnancy
What are your life-saving tips for other moms in the thick of pregnancy pain? Comment below.