Over a hundred women answered the question, "what's something you wish you knew before giving birth?" and I've collected their responses to help educate other moms.
We can learn invaluable information from the lessons these moms have learned.
Most Repeated Answers
Let's start first by looking at the overarching themes of their advice.
You have choices. You are in control of your pregnancy, birth and postpartum care. Medical professionals can and will try to change your mind about things (whether it be for protocol sake, their own desires, or for legitimate safety and health concerns). But, remember, you hire them and they work for you! You do not need to comply with what they say just because they have a white coat on.
Preparing for life after your baby is born is super, super, super important. Read everything you can about:

Postpartum recovery (most noted: poop/pee/pelvic floor care, placenta encapsulation and postpartum depression/anxiety)
Breastfeeding and pumping
Circumcision
Baby's sleep (CIO, co-sleeping, etc).

Most of the moms that allowed medical interventions ended up regretting them in some way. In most cases, the pain of natural birth is far better than the side effects of modern medicine.
What's something you wish you knew before giving birth?
The following 125+ answers are collected from a Facebook post with over 500 comments from real moms. I hope that you can glean from those that have gone before you! Or, at least, you can get a kick out of the truth of some of these entries.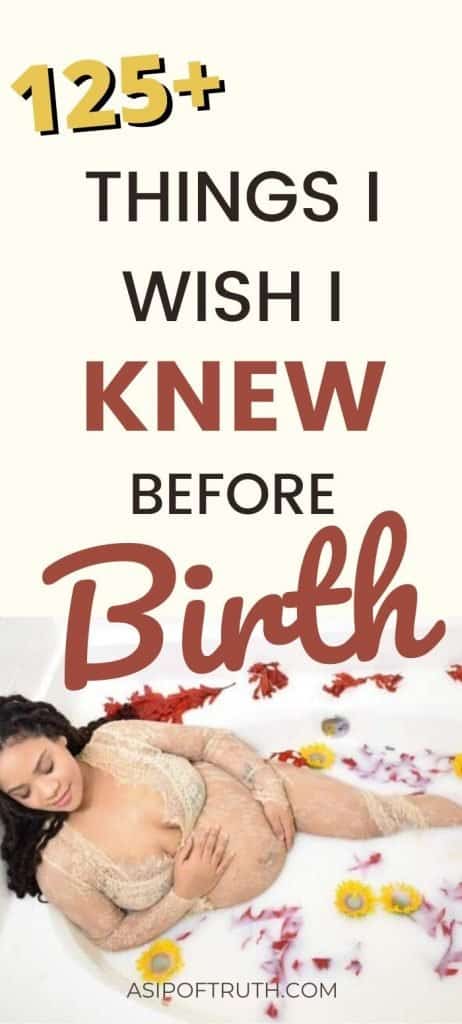 I have broken the entries down by category – you can use this table of contents to skip around but I encourage you to read all of the pieces of advice these women shared.
Things I Wish I Knew About Birth
Empowered Birth (Hint: You Have Choices)
I wish that I…
had looked into more birthing techniques.
learned about hypnobirthing.
had given birth at home. The hospital was overwhelming.
knew that I have choices.
was told that you can bring your own clothes to labor in.
asked for a mirror to watch delivery.
knew that doctors don't always do what's best for their patients… sometimes they do what is convenient for them (like pushing that I get a c-section because he wanted to clock out. A 20-minute surgery is faster than continuing an already 13-hour labor.)
that water births and midwives are amazing options.
would've been told to be open to medically necessary interventions after considering risks.
Options You Didn't Know You Had for Birth
I didn't know that…
there are doctors who will help you deliver (or try to turn) a breech baby. You can say no to a c-sections.
the doctors/midwives/nurses/whoever work for YOU. It doesn't matter what their policy is, it's not the law. You don't have to have anything done to you or baby that you're not comfortable with.
I have the right to refuse medical practices like hep lock, cervical checks, and shots.
you don't need an IV for fluids.
I didn't have to take medication. And, I especially didn't have to take whatever they gave me. You can ask for what you want (Ex: I want ibuprofen.) "I was given fentanyl (not what I wanted) for pain after my water was broken which caused me to be drowsy and to lose a LOT of blood."
you can birth hands-off. (no pelvic exams for dilation checks)
I could push without being guided. (no coached pushing, ex: okay, give me short pushes now)
you CAN stick to your birth plan no matter the pressures and resistance.
that everything goes fast once the baby is out. You go straight from pushing to cutting the cord, wiping baby down, breastfeeding, etc. "Make sure that you are 100% sure about your decisions and you are STERN about them. I wasn't firm about mine and I had things happen when I was halfway out of it from exhaustion that I'm not happy about."
that antibiotics for GBS (Group B Strep) aren't always necessary. (more about this here)
Things I Wish I Knew About Labor
Preparing for Labor
I wish someone would have told me…
to not tire myself out trying all of the at-home induction methods. "Just wait for baby to come and rest while you can."
to have made a birth plan. (you can use my free template)
to be prepared for plan B.
that I should hire a doula… "You need a doula to advocate for you when you're in pain."

"You need someone who advocates for you."
"A doula can help step in when you're husband is too scared to… Or, if he fainted."

to do lots of squats to prepare for birth. "Squat 300 times a day, you're going to give birth quickly." Ina May Gaskin
that you should work through past sexual trauma before giving birth because birth can be triggering for sexual abuse victims.
to have someone there to film or take pictures.
what can happen when you go through premature birth.
to research the RhoGAM shot before getting it. (Here's my post that includes information about RhoGAM.)
Being Induced
Why didn't anyone tell me…
that pitocin is bad… no one told me how horrible it is.
that you don't have to be induced at 39 weeks just because.
the dangers of having your water broken. "For one thing, it hurts more and is uncomfortable."
the lasting side effects of pitocin.
that IV placement sucks.
how bad contractions are when you're induced.
you don't need pitocin after birth.
Early Labor
You should…
labor at home as long as possible. (Yes and amen!)
eat on the way to the hospital because they won't let you eat once you're there.
have your husband bring a backpack of drinks and snacks for "him" to eat. He can eat some of them but mostly they're for you to eat/drink when nurses are out of the room.
move around to get baby to come down faster/easier. "If I sit down and get comfortable, my body stops having contractions. I do squats, lunges, stairs, etc to help baby come."
just wait. "Get comfortable. Have a plan for when contractions hit: meditate, focus, bathe, squat. Contractions are waves, ride them. Breathe with them. Don't fight what your body is naturally doing. And be patient."
not invite people to wait in the lobby while you give birth. It slows labor.
Pushing
Someone should've told me…
to let my body push. "I pushed and pushed until she was out. I pushed when I wasn't even having a contraction – I was exhausted."
about fetal ejection reflex.
that when you feel like you have to poop, you're about to push your baby out. Direct quote, "when you feel like you're gonna poop, you better hurry your a** to the hospital because that baby is coming out." (No lie – that is exactly what happened to me!)
to breathe!
Labor Myths and Misconceptions
I didn't know that…
natural birth can be easier than medicated birth because you're working with all of your senses.
birth isn't painful and only feels like intense pressure. (And the exact opposite, see next entry)
natural birth was really going to hurt really bad.
an epidural could've made my back hurt even 2+ years later.
stalled labor isn't a reason for medical intervention but actually is a reason for less invention. (Less interventions and pressure can help you feel more safe, relaxed, calm, and open to birth.)
you can enjoy your labor and it can be empowering.
the side effects of medications and medical interventions can be way worse than the pain of labor.
tearing is not as bad as you'd think.
you don't have to birth at the hospital to be safe.
you can walk and move during contractions. It doesn't hurt more! (*like many things in birth, this varies person to person)
birth can be FAST even if you're a first time mom.
you might throw up during labor.
most women poop during birth.
medicine can make you feel worse after having a baby than just facing the pain of birth.
C-Sections
I wish I had known…
that breech doesn't always mean c-section. You can wait for the baby to flip until 42 weeks then choose to have a c-section.
you don't have to have a c-section because you're past your due date.
vaginal twin births are a thing. You can fight harder for your dreams.
how to recover from an emergency c-section.
Pssst… you can skip back up to the top to use the table of contents at any time.
Things I Wish I Knew About After Birth
I wish I knew…
about placenta encapsulation.
that you will probably still look pregnant after birth.
that things might not go as planned and it doesn't matter in the end once you meet your baby.
the risks of the RhoGAM shot before getting it. (more about the RhoGAM shot)
Immediately After Birth
I wish I knew about…
how awful getting stitches is.
placenta delivery. (And, that the placenta shouldn't be pulled on or yanked out.)
birthing the placenta with contractions.
the big whoosh of blood and fluids after you stand up for the first time after birth. (*this doesn't happen to everyone)
delayed cord clamping and lotus birth.
skin to skin and kangaroo care.
fundal massage. (sometimes called belly massage) "It does not feel good." It hurts worse than labor for some women. Its necessity is still being debated.
the amount of pain you can be in after birth.
after birth cramping.
having visitors in the hospital. "You don't have to have visitors at the hospital or have anyone visit at all until you feel ready."
Days to Weeks After Birth
I wish I knew…
that the first poop after birth is more traumatic than giving birth.
to eat lots of fiber and take softeners to help with the first poops.
after birth cramping can happen for weeks and can be triggered by breastfeeding.
that you can bleed for 6 weeks or longer.
to follow the 5/5/5 rule and take it seriously. (Stay for 5 days in bed, 5 days around the bed (couch), then 5 days at home.)
how comfortable Depends diapers are.
about the realistic recovery time.
you can get your period back at 6-8 weeks even if you're nursing.
to "not look at your lady bits after your offspring tore that stuff up." (This one killed me – LOL!)
that you might lose control of your bladder/pelvic floor temporarily. (While it is common to lose bladder control after birth, it is not okay. Healing is possible.)
Postpartum Emotions
I wish someone had told me…
that postpartum depression can manifest as anger/rage or OCD.
how difficult it would feel to have my entire existence (identity) change forever.
that postpartum depression or anxiety can happen to anyone. Be proactive by setting up designated check-in times with a trusted friend or counselor.
how emotional I would be.
how important fresh air and sunshine are for fighting postpartum blues.
that I can ask for help when I need it.
that postpartum depression is real and to get help if you need it.
Pssst… you can skip back up to the top to use the table of contents at any time.
Things I Wish I Knew About Breastfeeding
Before we get started, you've got to know that this is one of my biggest regrets, too.
Learn from our mistakes and prepare now for breastfeeding! I highly recommend taking this $19 online breastfeeding class by Milkology. (aff link disclosure)
I wish I knew…
that breastfeeding hurts (even if you're doing it right sometimes.)
that breastfeeding is hard and there is a learning curve.
that breast size doesn't affect the storage capacity. "I didn't know that I could breastfeed with small boobs."
that baby is not on the boob exactly every two hours but rather every time he's awake. And, that that's normal and healthy and doesn't mean he's not getting enough milk.
about cluster feeding.
how important a good diet is for breastfeeding.
to take advantage of on-site lactation consultants.
Milk Coming In
I didn't know that…
my boobs would leak like a faucet.
engorgement is a thing and your risk of mastitis around day 3.
you can treat mastitis at home.
I'd be so thirsty after my milk came in.
your boobs hurt when the milk comes in and if you decide not to breastfeed, it takes a week for the pain to go away while your milk dries up.
milk can take up to a week to come in and you don't need to use formula. Babies can live off of colostrum until then.
Breastfeeding Challenges
I wish I knew that…
tongue ties and lip ties aren't always found by doctors and pediatricians.
you can use magnesium and calcium to prevent milk reduction once you get your menstrual cycle again.
I could breastfeed and didn't have to supplement with formula if I didn't want to.
you need to eat more than one meal a day for milk production. (and you need plenty of snacks)
you can weigh a baby to discover true nursing output at home.
Pumping
Someone should've told me…
that exclusively pumping is still giving your baby breastmilk and is a great option if breastfeeding doesn't work out.
that pumping doesn't work for everyone.
pumping output does not equal nursing output.
Things I Wish I Knew About Baby
Time at the Hospital
I wish I knew…
the truth about circumcision.
the dangers of eye ointment.
there is no need for eye antibiotics if you don't have an STD.
that you don't have to let your baby go to the nursery… and that there's good reason to not let them out of your sight.
you can do oral vitamin K instead of the artificial shot. (I include this in my natural hospital bag checklist)
that you don't have to bathe baby at the hospital (or even for weeks) and it's actually better for your baby to not be bathed right away.
Sleep
I wish someone would have told me…
the truth about crying it out and that babies shouldn't have to self-soothe.
that I didn't need to sleep train my baby.
that my baby didn't need to sleep in a crib in a separate room from day 1.
how to safely co-sleep.
that some infants don't sleep as much as others and that's normal.
General Baby
I wish I knew about…
cloth diapering.
proper carseat safety.
all things mothering a baby. Learn everything you can about baby led weaning, babywearing, elimination communication, attachment parenting, and anything written by Janet Lansbury.
What do you wish you knew before giving birth?