Some days supporting my husband is downright hard. Not because I don't love him and not because I don't care about him. Sometimes I am tired. Or feeling hurt. Or I think it should be my turn to receive support. Or I forget to. I can generate a list of I don't wanna's on days that I am not supporting my husband well.
The reality is that I do love my husband. I want to support him in every way that I can! I think as women we can tend to think, "He would be lost without me. He can't do anything that I can do." because sometimes it can feel that way. The truth is, we would be just as lost without them! I have made it my mission to learn how I can support my husband. I wanted to share my practical list of ways to support your husband so that you, too, can fine tune the skill of supporting your man.
8 Simple Ways to Support Your Husband
1. Make His Coffee In The Morning
Start loving on your husband first thing in the day! When I started writing this post, I asked my husband if there was anything else I should add to the list and this was his request. "When I am really tired and don't want to go to work, coffee helps me start my day. But when you make my coffee, it tells me that you love me and depend on me (in a good way) to go to work." I never knew that something so simple could set him up for a great day!

2. Pray for Him
We know from the Bible that there is power in prayer. (James 5:16b) Praying for your husband is a great way to support them in a godly way. Ask God to help your husband through his workday, to protect him, to guard his heart and mind and to give him a spirit of peace. Ask and it will be given to you! (Matthew 7:7-8)
Read my post, 17 Verses to Pray Over Your Husband, for a helpful guide to praying over your husband.
3. Say Thank You
"I feel good and appreciated when you say thank you. It reminds me that I am doing a good job providing for you and our daughter. It reminds me that I am not just working to work."


Aaron, my husband

Celebrate your husband's work and let him know that you appreciate what he does for your family! Even when you don't want to. This is huge! You can't wait for loving feelings or when he has done something exceptional to appreciate your husband. Showing appreciation and respect for our husband's work is a given. We do it because that is what we do as wives. Make it a regular occasion to show appreciation. Pray that God will give you genuine feelings of love and appreciation to back the action of gratititude.
4. Make Your Home a Haven for Him
A clean and tidy home helps my husband to feel like he can rest when he is home. "Clean and tidy" looks different to every family and every home. It will be different when you are a couple, then have one child, then two children, have a pet, or have family living with you. Simply put, I want our home to be my husband's favorite place to be. And honestly, I want it to be a relaxing place for myself too!
Ask your husband what areas of the home matter to him. My husband could care less about the tidiness of some areas of our home. Yet, he has told me on numerous occasions that, "it feels good when I come home and the living room looks nice." I can hear the angels singing when the kitchen counter is clean but I don't care as much about the TV being dusted. At least, I don't care as much as my hubby does.
5. Give Him Buffer Time After Work
I try to give my husband a moment to unpack his things from work and dust the day off before unloading the things from my day onto him. Give your husband 5 minutes to come home and hit the reset button. According to my husband, having a little buffer time helps him transition into husband-mode for the evening. My husband wants to hear about my day but isn't ready right when he has come home.

It's nice to know that when I come home, you will give me that buffer time. It feels like I am going non-stop if right when I get home you bombard me with your day.

Aaron, my husband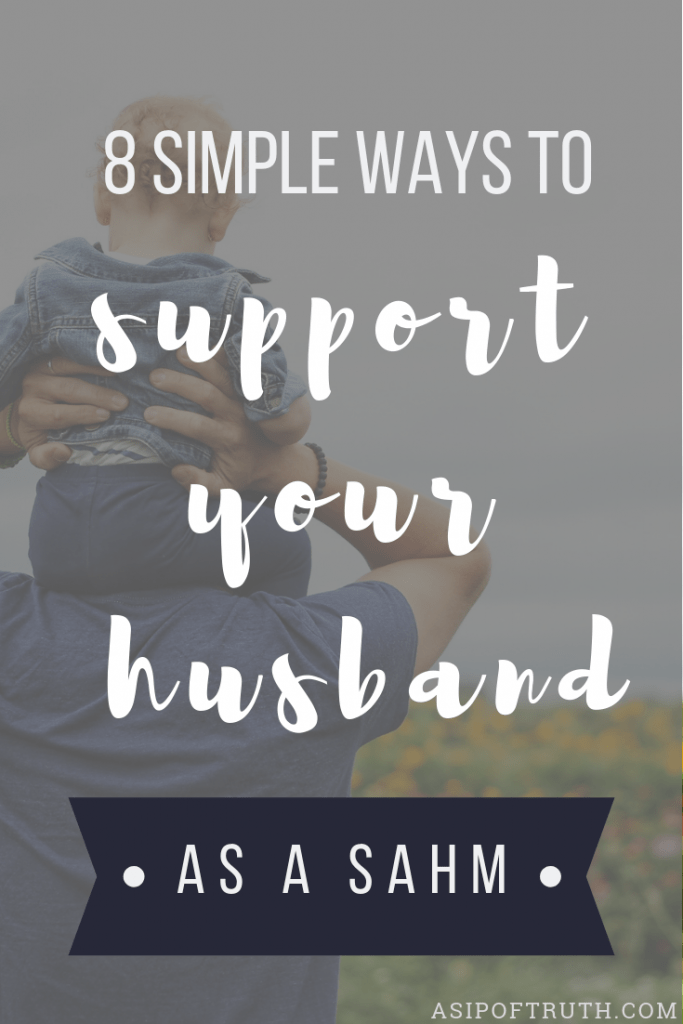 6. Love Him In The Way He Receives Love
We have only just recently honed in on each others giving love language and receiving love language. Yes- they can be different! I want to love my husband well by showing him love in the way that he will receive it well. I naturally give love through acts of service and/or gifts, I receive love through acts of service. My husband naturally gives love through physical touch and receives love through words of affirmation.
If your husband's love language is words of affirmation:
Text him throughout the day and tell him that you appreciate, love and respect him.
"I am so honored to be your wife."
"I love spending time with you. I look forward to when you come home from work and we are together again."
"You are so good at …"
"I am thankful for what you do for our family, you are such a hard worker. Thank you!"

If your husband's love language is physical touch:
Hold hands when you can
Put your arm around him
Hug often
Snuggle while you watch TV or a movie
Run your fingers through his hair while you're talking

If your husband's love language is quality time:
Go on a walk and talk
Enjoy a meal together with undivided attention
Take a weekend getaway
Sit and talk at a local coffee shop
Make memories doing something fun together

If your husband's love language is receiving gifts:
Give gifts, big or small, that are thoughtful
Receive gifts enthusiastically
Remember sentimental dates and anniversaries
Make your husband a priority in conversation
Speak purposefully to your husband

If your husband's love language is acts of service:
Help him work on a project
Make him breakfast in bed
Go out of your way to help him with some of his tasks
Clean his car with him
Say "I'd love to help you with….." and follow through
For more information on love languages, go to Fierce Marriage's article, How to Speak Your Spouse's Love Language (and What to Avoid).
7. Make His Lunch
When I have time, I love to make my husband an elaborate packed lunch to take to work. I include love notes, wonderful snacks and dips, fresh veggies and fruits, and a delicious entree. I love knowing that he is going to have an amazing, nutritious lunch. It has been a way for me to show love to my husband and take one thing off of his to-do list.
After our daughter was born, we decided it was best if he started making his lunches so that I had less to do. To help, I make him a "sandwich filler" every week and have cut fresh fruits and veggies on hand. On Monday's, I make either egg, tuna or chicken salad for the week. Super easy for me and it helps him to have an option other than deli meat for his lunches.
8. Save Money
If your family dynamics are different than mine, this may not apply to your family. I want to share because this may be helpful for some, like it is for our family. I care for my readers and don't want to leave anyone out. Please know that I really do understand that sometimes this one is a toughy. Seasonal circumstances and personal skill level can make saving money hard!
If you can't make the money, then save it.
My husband works hard to provide for our family but living on one income can be tight. That's where I come in. At this time, we both feel it is best if I stay at home with our daughter which means I can't provide income from an outside source. Something I can do is save us money through meal planning, utilizing store sales, buying at the best times and at the right stores, and keeping my personal spending low. Saving our family money is work! Making things from scratch, doing things the long way and prepping takes time but saves us money.

The Last Thing You Need to Know About Supporting Your Husband
I think my husband sums it up best, "The small things to you can be the biggest act of love to your husband. Something small, like making his coffee, can start his day off feeling loved." Supporting our husband can be hard but it is worthwhile! Strengthen your marriage by supporting your husband through the simple things every day.
In what way will you start supporting your husband this week?
Comment below or email me. I would love to hear from you!
Pin It For Later!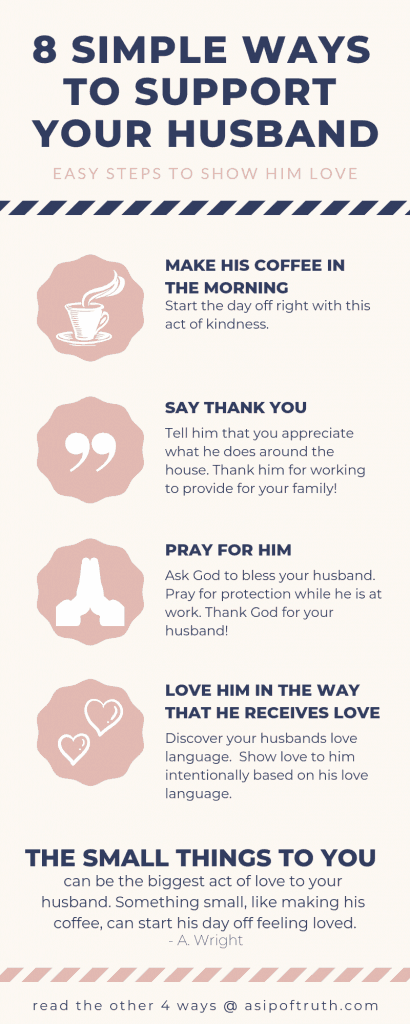 Read Next… 17 Verses to Pray for Your Husband