This post contains affiliate links, which means I receive a small commission, at no extra cost to you, if you make a purchase using this link.
The Best Products for Hip, Back and Pelvic Pain During Pregnancy
Most women experience hip, back, and pelvic pain during their pregnancy without finding the support they need.
Everyone knows that pregnancy is hard but not everyone can relate to the specific aches and pains of a pregnant body. I am here to tell you that you are not alone in your pain!
I joyfully struggled through almost my entire pregnancy. After trying to conceive for almost 2 years, I gladly accepted every affliction that pregnancy can bring. For me, morning sickness that lasted all day and crippling hip, back and pelvic pain (ahem, SPD pain) were the reality of my pregnancy.
After much trial and error, I found a handful of must-have products for pregnancy.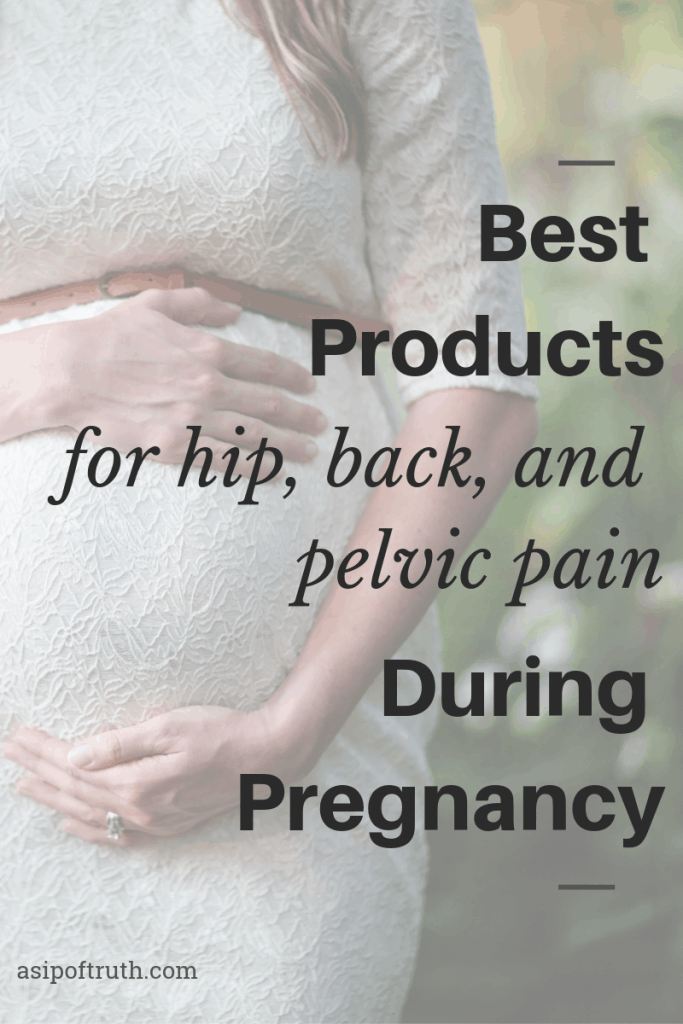 5 Products that Relieve Pregnancy Back Pain
1) Support Belt: primarily supports hips and pelvis
This belt is a game-changer for hip, back, and pelvic pain in pregnancy. I would feel immediate relief when I put it on and felt very supported while wearing it.
After trying on other belts and belly bands in stores, I can tell you that this belt is pretty slim. You can see it under some clothing but overall it isn't very bulky.
Quick Facts about this type of Belly Band:
The SI-LOC support belt goes on in a two step process. First, you secure the bump support band. Then, you put on the SI stabilizing belt.
The only downside to wearing this belt is that you have to remove it every time you need to use the restroom. Even though you still have to remove it often, it is *way* easier to use than the woven wrap.
The belt can be rolled up and snuck into a purse or diaper bag if you are out and about. I would often take it in my purse to OB-GYN appointments so that right after the appointment I could put it on.
2) Kinesiology tape: supports wherever applied
My favorite product for hip, back, and pelvic pain is a close tie between this tape and the SI-Loc Support Belt. I loved using the tape and felt vast improvement while wearing it. I had noticeable relief while using kinesio tape!
Kinesiology tape is convenient because you do not have to remove it to use the restroom. (Which when you're pregnant is all.the.time.) There isn't any tieing or Velcro involved.
You can't see this under your clothing so you can wear whatever you would like. Hooray to unlocking more clothing options to the pregnant woman's limited closet!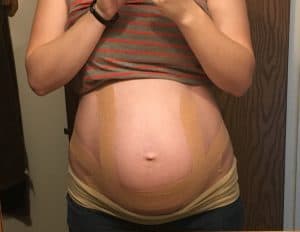 Diary of a Fit Mommy has a great guide on how to apply your kinesiology tape here.
Kinesiology tape does not accommodate for routine ultrasounds. Towards the end of my pregnancy, I ended up having weekly ultrasounds and non-stress tests because of my daughter's current needs. Kinesio tape gets in the way of both ultrasounds and non-stress tests. I learned the hard way to space out when I put on the tape so that it had lost stickiness before appointments. Kinesiology tape doesn't get in the way of routine Doppler ultrasound use.
PLEASE, be careful removing your kinesio tape. Your skin is very sensitive during pregnancy and you can hurt yourself by removing the tape improperly. This kinesio tape WORKS and is very sticky!
I do NOT recommend using pre-cut KT tape. You need long strips of kinesio tape to wrap around your growing belly.
Buy It on Amazon for less than $10
3) Back and Bump Pillow
I loved this pillow! My back and belly felt like they were resting on perfect little clouds with the Boppy Side Sleeper pillow. Um – yes, please!
One great thing about this pillow? You won't be able to roll over and get stuck on your back. Ha, #pregnancyproblems!
This pillow is great for small apartments or if you have a small bed. Your darling husband will thank you for getting this one and not kicking him out of the bed for lack of space.
I would've gotten this one that my friends rave about but I just don't have space. And, I like my hubby to fit in bed with me and my pillow.
4) Woven Wrap: primarily supports back and belly
I was so surprised when I learned that I could wrap my belly and hips with a woven baby wrap. And, I was shocked by how good it felt when I was wrapped up. I used this technique starting early in my pregnancy with a long scarf that I had instead of an official woven wrap.
Using a wrap for support during pregnancy is frugal because after your pregnancy you can use the wrap for babywearing and for belly binding.
Wrapping your belly can be cumbersome and awkward. Unwrapping everytime that I needed to use the restroom got old quick. (UPDATE: now that I know more about belly wrapping, I think there are ways to avoid having to unwrap for potty breaks.)
Your wrap will not fit under your clothing so my tip would be to get a pattern that you love so that it can be an accessory to your outfits. My lime green scarf did not look very nice on top of my outfits- I would have loved to wear this gorgeous wrap made by Didymos.
Brands you can trust: Didymos, Tekhni Wovens, and, Lenny Lamb.
I used this video to learn how to wrap my belly for support. (UPDATE: There is a YouTube playlist created by Babywearing International that you can use to learn how to wrap your pregnant belly)
5) Supportive Shoes: why doesn't anyone else mention this?
A supportive shoe makes all of the difference in how you feel! Here are my two favorites:
New Balance Fresh Foam Cruz Lifestyle Sneaker
I looked and looked for shoes that would support my aching feet and, more importantly, my back. Finally, I found these CUTE and oh-so-comfy sneakers.
These shoes pull on which means no bending down to tie your shoes. They fit snug around your foot for support. They also have unique ankle bumpers that give support (that feels like a warm hug from Olaf himself) to your ankle bone.
Asics brand athletic shoes
Once my feet started to swell, I needed a shoe that could expand with me and be worn untied while still giving support.
Asics always meet my expectations, I love their shoes! You can find my favorite pair by clicking below.
---
Common Questions About Hip, Back and Pelvic Pain in Pregnancy
What is pregnancy-related hip, back, and pelvic pain?
For some women, pregnancy-related hip, back, and pelvic pain is debilitating throughout their pregnancy while others aren't affected until the very end of their pregnancy. Whichever woman you are, let me just say. You're freakin' awesome and growing a human being hurts sometimes. Keep up the good work!
Oh, and your pain is totally valid. (Yes, I have to say that because I didn't think my pain was real/acceptable until I had been suffering far too long. See below)
Pregnancy-related hip, back, and pelvic pain can feel like:
Sharp, shooting pains*
General soreness and/or numbness of the pubic bone
Ripping or tearing sensation*
Stretching
Radiating pain
Bones are breaking or cracking*
Pressure
Tingling and/or numbness down the legs
*If you are experiencing acute pelvic pain that includes sharp, shooting pains, ripping sensation in your lower pelvis, and/or feel like your hips and pelvis are breaking, reach out to your doctor to find out if you have Symphysis Pubic Dysfunction (SPD or Pelvic Girdle Pain, or PGP)
Why is hip, back, and pelvic pain normal during pregnancy?
During the last two trimesters of pregnancy, your body starts producing the hormone relaxin while it prepares to deliver your baby. As your pelvis loosens, it widens, and as it widens, your body becomes a little unstable. Nerves are easily pinched and bones can move in and out of alignment. The widening of the pelvis can also allow for your baby to sit lower which causes intense pressure and discomfort. And the need to pee every 10 minutes!
My Story with Pregnancy Back Pain and SPD Pain
Around 18 weeks pregnant, I started having intense shooting pain almost every time I would get dressed. I brushed it off as a coincidence. I kept pushing myself because I thought I shouldn't be experiencing any pain from my pregnancy yet. Then, I couldn't roll over in bed. Then, I couldn't get into the car without having to grit my teeth. Then, every time I would bend over, turn around quickly, or lean over I would get a sharp pinpointed pain in my abdomen. (All of which was caused by SPD and/or Round Ligament Pain) Even walking became painful; I finally understood the pregnant mama waddle on a personal level.
By 20 weeks, I was struggling to manage normal tasks because I couldn't move! I felt embarrassed that my body couldn't handle pregnancy and I was scared looking forward to the next 20 weeks. Most of all, I was in pain and feeling like I was weak to be experiencing this much pain. If you are feeling this way- you are not alone! These products and my tips will help support you during your pregnancy and relieve some of your pain.
Can chiropractic care help with hip, back and pelvic pain in pregnancy?
Yes, yes, yes! Chiropractic adjustments during pregnancy helped me SO much. Make sure that your chiropractor is certified and experienced with adjusting pregnant women. All chiropractors have to be trained on adjusting pregnant women but few are experienced and specialize in pregnancy. (You can find more about chiropractic care during pregnancy in my post, Best Tips for Pain in Pregnancy. )
Can I be have hip, back and pelvic pain in my first trimester?
Yes! Many women (like me) experience back pain as early as 5-6 gestation. True story. Pelvic and hip pain typically comes a bit later because it is mostly caused by the hormone relaxin and by your growing baby (and belly!).
Talk to your doctor if your pain is getting in the way of daily activities.
What does it mean when your joints hurt during pregnancy?
During mid-to-late pregnancy, hip, back, and pelvic pain are to be expected. It is totally normal to experience pain and discomfort as your body grows, stretches and moves.
Your body is producing the hormone relaxin which relaxes your muscles and allows for your bones to widen. As your body widens and loosens, your ligaments and muscles get stretched, nerves can get pinched (hello, sciatica pain) and bones can move out of proper alignment.
The Last Thing You Need to Know about Hip, Back and Pelvic Pain in Pregnancy
Keep going- you can do it! I know just how hard it is to function with pregnancy-related hip, back, and pelvic pain. You are not weak because you are feeling this pain, and you are not alone. I hope these products help you as much as they helped me!
What products could you not live without during your pregnancy? Tell me in the comments below!
Read Best Tips for Hip, Back, and, Pelvic Pain in Pregnancy…