It's time to prepare for labor.
I've walked you through preparing mentally for a natural birth, but now let's talk about how you can prepare your body for natural childbirth.
Let's jump in!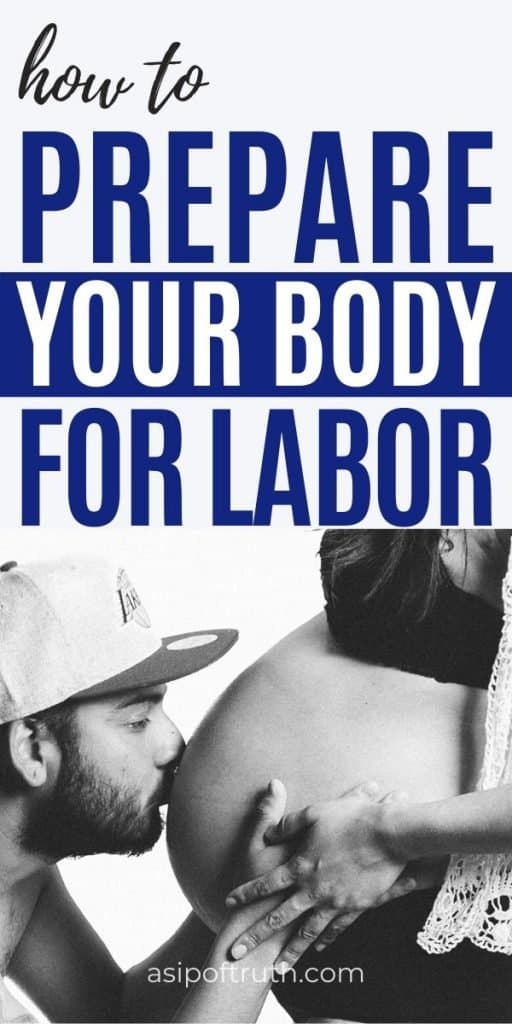 I am in no way a medical professional; the advice on this blog is to be viewed as opinion only and NOT to be used in place of a medical professional. Please – consult your medical provider for any and all health needs or questions.
How to Prepare for Labor: Prepare for Natural Birth
There are a plethora of ways to prepare for labor and get your body ready for a natural birth. Here are the methods I used to have a successful, fast and enjoyable labor as a first time mom.
It's important that you note that I labored for 14 hours from the first contraction to the last push. And, I only pushed for 20 minutes. (You can read my birth story here.)
Tip #1 Drink Red Raspberry Leaf Tea
You can start drinking red raspberry leaf tea in your second trimester. (There is still debate over the safety of usage during the first trimester.) Red raspberry leaf (RRL) tea has been proven to reduce the need for medical interventions during birth, decrease labor time and improve overall ease of labor and delivery. Ingesting RRL tea can also be very helpful for postpartum recovery. (Pubmed Sources from Study 1 and Study 2)
How can one simple herbal tea accomplish all of that? Well, the fragrarine compound in red raspberry leaves has been found to tighten and tone uterine muscles. (Source)
When I entered my second trimester, I started drinking a cup of red raspberry leaf tea every day. (I used Mommypotamus's herbal blend that features RRL) As time went on, I increased how many cups I drank per day. By 40 weeks, I was drinking a little over a quart of RRL tea every day. I continued to drink RRL tea after birth to help with postpartum recovery.
Quick Tip: How to Make Red Raspberry Leaf Tea
I would make 4 quarts at a time and sweeten each quart with 1-2 doonks of THM Pure Stevia. I love drinking red raspberry leaf tea ice cold. But, that may also be because it was the middle of summer. Ha!
Tip #2 Eat Dates to Prepare for Labor
It has been proven (Source 1 and Source 2) that eating 6 dates per day for the last 4 weeks of pregnancy (starting at 36 weeks) can soften the cervix, reduce the need for medical interventions, decrease afterbirth bleeding and can possibly shorten labor.
Watch Evidence Based Birth's video about the science behind eating dates for better labor and delivery.
Mama Natural also has a great article about eating dates during pregnancy.
Tip #3 Go for a Walk
Girl, get walkin'. If you're physically able to walk, do it!
Walking is a great form of gentle exercise that most pregnant women can do. And, interestingly, walking is actually one of the best ways to naturally prepare your body for labor.
Here's why you should be walking to prep your body for labor:
Walking tones hip muscles and encourages better pelvic flexibility which leads to an easier and potentially faster labor.
It is a total body exercise – it's great for your heart, but really is excellent for your whole body.
Walking can lower the risk of pre-eclampsia. In a nutshell, walking helps maintain a steady weight. Maintaining a healthy weight lowers cholesterol which leads to lower blood pressure. And, ultimately lowers your risk of pre-eclampsia. (Source)
It will release nature's feel-good hormones, endorphins. Walking can help balance mood and stress – Lord knows pregnant women need some of that!
Tip #4 Do Gentle Exercises
Walking and frequent exercise are great for pregnant women to prepare for labor.
But, maybe you're like I was and walking is painful. My SPD made going for walks nearly impossible – it just hurt too badly!
Here are some other ideas to get in intentional movement every day:
MommaStrong workouts: daily 15 minute exercises designed for moms-to-be, postpartum moms and beyond. I have blabbed on and on and on about MommaStrong on this blog… more like, I have shouted from the rooftops for all to hear that it has changed my life. It's only $5 a month, check it out. (This is NOT an affiliate link – and never will be)
Swimming (feel light as a feather again, ahhhh)
Prenatal yoga
Tai Chi
Here a few of my favorite free videos for prenatal exercise:
Tip #5 Go to a Chiropractor
Roughly 50% of pregnant women will experience back, hip or pelvic pain at some point before delivery. Chiropractic adjustments have been proven to relieve that pain. Getting a chiropractic adjustment is safe and effective for pregnant women.
Some of the benefits of receiving chiropractic adjustments during pregnancy:
A properly aligned pelvis allows for more room for baby during pregnancy
Faster and easier labor and delivery due to correct pelvic alignment
Pain relief for aching hips and back
Read more about chiropractic care during pregnancy in my post, 8 Tips To Relieve Pain in Pregnancy, and Healthline's post, Chiropractor While Pregnant: What Are the Benefits?.
Tip #6 Eat Like an Athlete to Prepare for Labor
If you're serious about preparing your body for labor, get serious about eating right. Your body needs to be fueled with proper nutrition to truly thrive. Eating well during pregnancy can help with overall wellbeing (more energy, better mood, less fatigue) but is especially important to prepare for labor.
Trim Healthy Mama is the best "diet" out there for pregnant women. I typically don't like to say things are the best or #1 because it just seems too bold. BUT Trim Healthy Mama (THM) truly is the best. Trim Healthy Mama is a smart way of eating that includes all food groups and focuses on maintaining a steady weight and stable blood sugar levels.
In a nutshell, to eat the THM way for weightloss you separate carbs and fats at meals while avoiding foods that spike blood sugar levels (white potatoes, white bread/flour/pasta, and sugar). Eating with the Trim Healthy Mama plan while pregnant or nursing is a little different in that you can eat carbs and fats together in meals to support a healthy weight, and, later, milk supply.
If you're interested, I have an entire post written about how to eat well during pregnancy with the THM plan.
Tip #7 Do Perineal Massage
Alright, so this is the one thing that I didn't do during pregnancy because it is still something that not all medical providers agree is overly effective.
If you're up for trying it – great! If not, don't stress it.
Some quick stats about perineal massage to prepare for labor:
Roughly 1 in 15 women who do perineal massage won't need an episiotomy (surgical cut of the perineum) or have a tear so bad that it needs stitches.
Even if you still end up tearing after doing perineal massage during pregnancy, one study found that it reduces the need for stitches after tearing by 10%. So, basically, if you do tear, it won't be as bad of a tear.
You can read more about how to do perineal massage and it's benefits on Healthline.com.
A Quick Caution Against Evening Primrose Oil and Other Vaginal Suppositories
When I was pregnant and still today, I see and hear a good bit of advice on inserting things into the vagina for cervix ripening and/or labor induction. My two cents? You shouldn't be inserting anything into your vagina – especially as you get close to giving birth. Our bodies know exactly what to do and when to do it! 
Your baby will come when he/she and your body are ready. No questions asked.
My midwife specially warned me against using evening primrose oil (EPO) suppositories. She explained to me that while EPO is effective for thinning and ripening the cervix it has also been shown to thin the membranes which can lead to premature water breaking.
Be careful with what you try at home and please talk to your medical provider before trying anything.
What Did You Do To Prepare for Labor?
Let me know in the comments below! I'd love to hear what was helpful for your labor and delivery.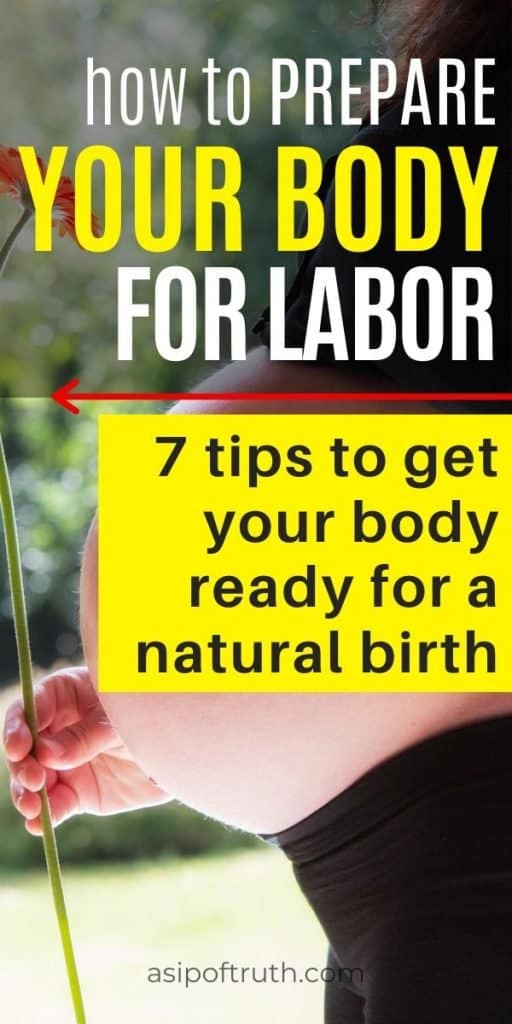 Pin it for later!