Natural birth in hospitals is rising to be one of the top searches on Google. Why? Because people want to know if it can be done.
I, myself, searched for the same thing when I was pregnant with my daughter. I wanted to know the best tips for natural birth from other moms!
What exercises should I be doing? What do I want in my birth plan? I loved reading positive birth stories and watching videos to see how women birthed peacefully. Water births really intrigued me and I knew positive affirmations were a must. But… how could I get the birth I wanted at the hospital?
This post may include affiliate links, which if you click through to purchase, I will receive a small commission- at no additional cost to you. Thank you for supporting my family!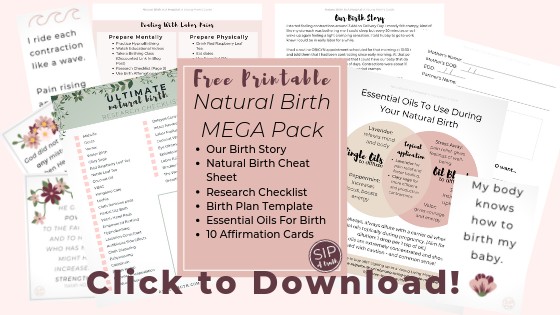 Natural Birth in a Hospital: A Young Mom's Guide
I sometimes lovingly call myself a hippie-crunchy lady because of my growing obsession with natural living. I'm a cloth diapering, baby wearing, snot sucking, sugar-free kind of mama.
Our birth experience couldn't be any different!
We started our prenatal care at a wonderful birthing center in the middle of Amish country. I loved the midwives there and really enjoyed their holistic approaches to prenatal care. We later had an insurance change and it became obvious that (for financial reasons) we needed to deliver at the hospital instead.
I was so bummed. I was worried that I would have to fight my way through my pregnancy and then again during delivery to have the natural experience that I wanted. Thankfully, that didn't end up being the case! I will say that if you aren't sure of what you want, then you will be pushed into medicinally minded care. I had to stand my ground a few times throughout my pregnancy but during delivery, my choices were respected. I hope this post will help you to have the same experience!