The nesting instinct has hit you full force and you're ready to pack!
This minimalist hospital bag checklist will make packing for your natural birth at the hospital easy.
Many of the clickable links on this page are affiliate links. That means, I receive a small commission for each item you buy through my link at no additional cost to you.
Minimalist Hospital Bag Checklist for Mom To Be
"What do you mean you didn't check the list?! I need that right now! HOW COULD YOU HAVE LEFT THAT BEHIND?!"
Obviously, this moment is what you want to be avoiding. Chaos, frustration, and not having what you need when you need it.
While this hospital bag checklist isn't as exhaustive as some I've seen, I think it really does cover everything that you really need.
Because, as you'll soon find out, you don't really need to pack very much for a hospital birth.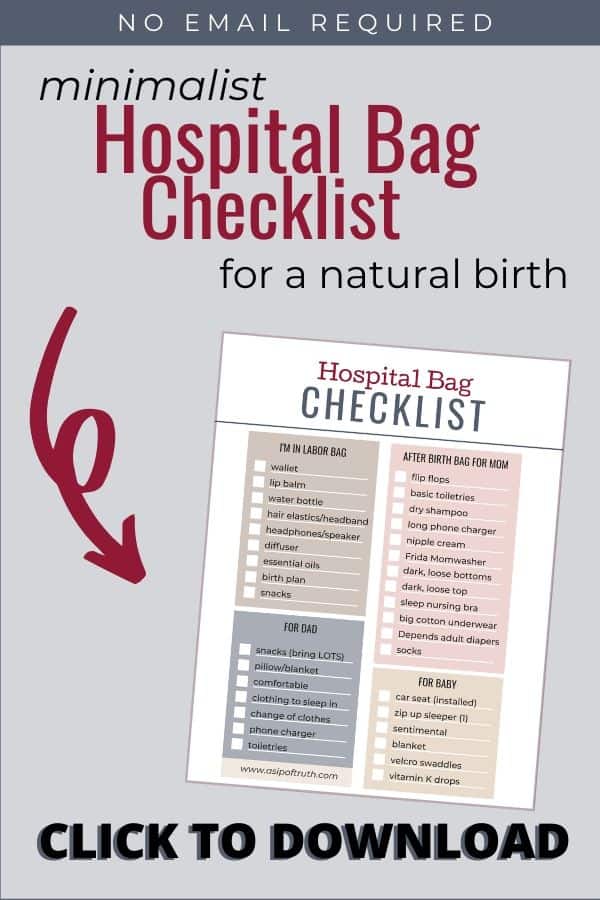 Things to Pack in The Hospital Bag for Mom
You're going to want to have two small bags or at least one normal bag with the "I'm-in-labor" things at the top. Nothing is worse than needing something ASAP when you're in labor and your poor stressed-out husband can't find what you need. As well as, you might not have much room in the initial delivery room to set up camp.
The Mini "I'm-in-Labor" Bag (or stuff at the very top of your hospital bag)
Wallet. Insurance card and license. Pre-registration papers if you have them.
Lip balm. It's on every hospital bag checklist I've seen and it deserves to be.
Water bottle. That is, only if the hospital doesn't provide you with one of those awesome huge jugs with the bendy straw.
Hair elastics and headbands. Get that hair out of your face!
Headphones or handheld speaker. Listen to music during labor and on the way to the hospital.
Diffuser to diffuse essential oils during labor and after birth. This was a must-have for me! I absolutely LOVED having essential oils diffusing in our room during our stay. I put this in the "I'm-in-Labor" Bag because it would be lovely to use during labor but, we didn't end up having time to even think about getting the diffuser out when we got to the hospital. So, maybe have your diffuser and 3-4 essential oils in a separate grocery bag or something so that you can decide last minute to take it in right away or leave it in the car until later.
Essential Oils to Pack in Your Hospital Bag: clary sage, peppermint, lavender, lemon (I love peppermint, lavender, and lemon diffused as a blend), and 1 oil that is a mood-booster that you love the smell of. (I used Rocky Mountain Oil's Tranquility.)
This post has all of my must-have essential oils including peppermint, lavender and lemon and how to use them.
Birth Plan. Have a few copies in case you are there during a shift change. Or if one gets lost. Or if one gets…uh… fluids on it. Keep it simple – you can use my template and read about my birth plan here.
Snacks. Oh. my. word. – Y'all pack some dang snacks for yourself and for your husband. You will be so ravenous and the next meal might be hours away. (here are 19 snack ideas for labor and delivery)
Hospital Bag Checklist for Mom-To-Be Cont. (leave in the car until later)
Flip flops. For the shower (if you end up taking one) or for general walking around. I ended up wearing my "labor flip flops" for like 6 weeks because it was summertime and they were just so darn easy to put on.
Basic toiletries. Toothpaste, toothbrush, deodorant, etc.
Dry shampoo. Yes, this deserves a separate entry from general toiletries. You won't want to forget this!
Extra-long phone charger. So that you can reach your phone while its charging and you're stuck under your lovely newborn.
Nipple cream. 'Cause your nipples gonna be needing this. Your hospital might provide this but it certainly won't be organic and lovely like this one.
Frida Momwasher. I have heard amazing reviews on the Frida Momwasher. "It hits you in just the right place and helps with the pain while peeing. Everyone needs this." This is going on my list for my next birth!
Clothing for Mom
Dark loose-fitting bottoms that are comfy as heck (or two). I brought a loose pair of sweatpants with a flat (not bunchy) waistband and a pair of soft lounge/athletic-looking shorts.
Dark flowy-as-all-get-out top or two. For me, this was an oversized t-shirt and a flowy knee-length black t-shirt dress that I wore over shorts.
Kindred Bravely nursing sleep bra. Yep, straight up this is the best nursing bra for comfort's sake. I lived in this bra for WEEKS (ahem, let's be honest, months) after delivery. Freakin' love this bra. It can stretch a LOT for those massive engorged boobs in the beginning but somehow keeps its shape perfectly for when your boobs are back down to normal size.
Big cotton underwear. Get a size larger than you normally wear to accommodate for a giant pad and your still-squishy belly. Only bring one pair because you'll end up wearing the mesh underwear or Depends while in the hospital.
Depends adult diapers. I totally appreciated wearing these. They're more comfortable and secure than the mesh underwear but still have the leakproof, non-underwear-wrecking safety that I wanted. Bring 4-5 pairs but you'll probably end up wearing mesh underwear for most of your time at the hospital.
Fuzzy socks. I never used socks because it was summer and I had flip flops for walking around. If you love em, pack em. If it's winter, pack em.
Things to Pack for Dad
*I'm putting this here for the ultra-nesting mamas who want to pack for their birth partners… I'm sure this list is not exhaustive.
Dad's Labor Cards. These 3×5 cards will be a huge help for both of you. He'll know what to do and say during the entire labor process and you'll have the peace of mind knowing that he's got your back. You can grab a set here for $1.99.
Snacks. Worth mentioning twice – pack LOTS of snacks! Seriously, we would've straight up died if we hadn't packed a good stash of snacks. 
Pillow. If he wants to bring his own and/or if the hospital doesn't provide one for him to use (unlikely).
Comfortable clothing to sleep in.
Change of clothes. Don't want him smelling up the place!
Phone charger.
Toiletries.
Things to Pack for Baby
Okay, so seriously. Your baby does not need very much at all. The hospital can provide all of the essentials for the baby. What you decide to bring is truly a personal preference.
What I wish we would've brought: (hint* we packed way too much for baby)
Car seat. Installed and ready to go.
1 zip-up sleeper. But, know that most of the time baby will be naked underneath the comfy swaddling blankets.
Sentimental blanket for pictures. We brought the blanket that my grandmother knitted for our baby.
Velcro swaddles. Because our first was an escape artist but hated being un-swaddled. (these are our favorite.)
Vitamin K drops. This brand is very reputable and trusted by many. We used this in place of the artificial vitamin K shot that is routinely administered in the hospital as approved by our pediatrician. (I am not advising you to do or not do anything your medical provider advises, just sharing my personal preference. Full medical disclaimer here.)
Things You Might NOT Want to Pack in Your Hospital Bag
Robe. This one is iffy. I think it just depends on your preference. The clothing I packed was basic loungewear so I didn't mind if anyone saw me in what I was wearing. Maybe I would've wanted a robe if it were colder in our room?
Lots of cute baby outfits. Your baby might not fit in any of them and you're not going to want to be changing the baby multiple times into cute outfits. Skin to skin is encouraged in the first days anyways.
Pre-pregnancy clothes. Girl, why. Just give yourself a little time to be comfortable! I have a post about losing baby weight… but, spoiler alert, most of it reminds you over and over that your focus as a new mom should NOT be on losing weight.
Makeup. Hairdryer. Straightening iron. You might want these items and some moms swear by bringing these along to help you feel human again. I just didn't want to bother. It's only a few days… the only reason I would suggest to bring these items is if you're having pictures taken in the hospital.
Books, magazines, entertainment for mom. There's just no time. You're going to be busy sleeping, eating and soaking in time with your new baby.
Anything that the hospital provides.
Some examples: diapers, breast pads, mesh panties, baby formula, breast pump, pads, baby blankets, peri bottle, tucks pads, etc. Ask your hospital what is provided.
Your pillow. Once again, totally personal preference. I didn't bring mine and was glad we had one less thing to carry in/out. The hospital gave me like 8 pillows for hubby and me to use. I was just fine without my pillow. But, some moms just love having their own pillow. If that's you, do it!
Boppy pillow or another breastfeeding pillow. I found my boppy pillow to be overwhelming to learn to breastfeed with. The lactation consultants and nurses had better success helping me by moving several pillows around. But, that also just might have been because my firstborn had a tongue tie that made nursing awkward and painful in general.
Packed and ready-to-use diaper bag. I remember toting in our new diaper bag with everything you could think of packed into it. Y'all. You just don't need it. A diaper bag is for when you're out and about with your baby. The only out and about-ing you'll be doing is the drive home. And, I don't think you'll be needing anything that the hospital didn't send home with you.
Reader Question: What size hospital bag did you take? Is a carry-on suitcase too much?
To be honest, I can't remember what size bag we took. I think we had a reusable grocery bag filled with snacks, last-minute toiletries, and the diffuser. Then, we shared a small duffle bag for all of the other stuff. So, probably a carry-on size?
I think a carry-on suitcase shared by mom, baby, and dad is great. Plan to bring a small-ish bag for your mini "I'm in labor bag" as well (this could totally be your purse). I wish I would've done that for my first!
What things would you add to this list? Anything you just can't leave behind?
Related Posts: