Best Marriage Tips for New Moms
If you're a new mom seeking marriage tips, you're in the right place!
My husband and my's marriage has changed significantly after our daughter has joined us. To be honest, we are still learning how to love one another well during this season of becoming parents. It is hard to keep your marriage as the top priority when your new baby demands all of your time and energy.
I passionately love my husband and have made it my mission to actively invest in our marriage. I need to renew my mind to align with what God desires for my marriage, pray for a cheerful spirit, learn new two-player games, find new TV shows that we can watch together and maintain open communication to help our marriage to thrive. Do you know what you could do to help your marriage grow?
Why does having kids affect marriage?
Many of you know this answer well. We couldn't be any happier to be parents and at the same time, we greatly miss our time as a couple. Understand that having a baby does NOT automatically mean you have to sacrifice your marriage or that you will have marital struggles- that is simply not true!
Having babies and small children affects marriage because:
There is not as much time in the evening to spend as a couple.
It is harder to go out whether you have the baby with you or as a couple.
There can be disagreements on what to do for your child. As parents, we have so many choices to make. We get to decide what we want for their daily routine, health, family traditions, and wardrobe. (Anybody else not see eye-to-eye on outfit choices?)
You are both dealing with sleep deprivation and fatigue.
There can be comparisons of who works "harder." The one who cares for the baby primarily vs. the one who is working. (By the way, neither of you can win this! You need each other to provide for your babies needs.)
Babies are needy. Period.
There is a need to redelegate roles around the home. The new mother will now have more to do and will need her partner to take on some of the tasks she used to do.
Babies are expensive! Parents often have disagreements about what they should and shouldn't purchase for their baby. Fights about money are the second leading cause to divorce, with the first being infidelity. (Source)
Each couple is vastly different and each couple has to strategize their own plan for sticking together during the chaos of having small children. A big part of marriage with small children is actively choosing to invest in your marriage even though it may be hard.
What is marriage like as a new mom?
Caring for a baby can feel like one long continuous day that is on loop FOREVER. Okay, maybe that is a little dramatic. It can feel like everything that you just finished doing, needs to be re-done. Your new baby constantly needs to eat, or have their diaper changed, or take a nap, or take a bath, or be held. Someone once told me that keeping up with the grind of motherhood is like brushing your teeth while eating Oreos. Solidarity, sisters! We are in this together.
You put the baby down for bedtime, do the ninja crawl out of their bedroom and plop on the couch exhausted from your day of mom-ing. Then, you look over to see the love of your life smiling at you and all you can think is, "Can I go to bed now?".
We know that a happy marriage grows happy kids. We know that we love our spouse. We also know that the baby will wake up in 3 hours for a middle-of-the-night feeding and we know that at 5 AM the next day we will be awake with our baby. How can we enjoy our marriage during the chaos of life as a new mom?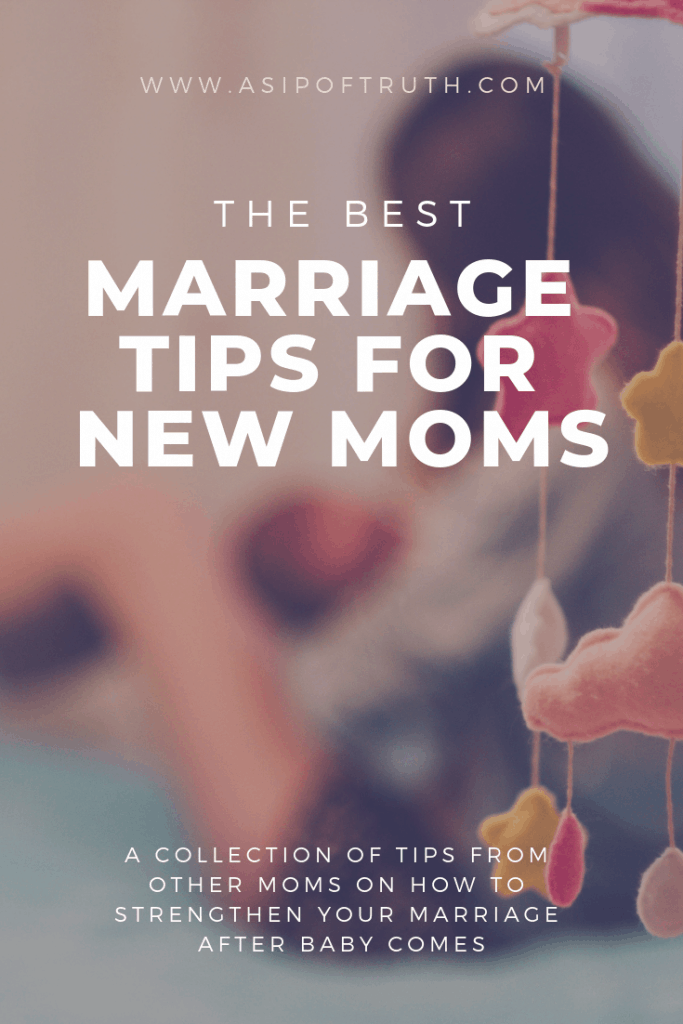 Best Marriage Tips for New Moms
I wanted to do something special with this article. You can submit a tip anytime for it to be featured on this post. I will periodically add in new tips that have been sumbitted. Thank you, loyal readers, for your amazing tips for new moms!
Tip 1: Remember That You Are On The Same Team
When I would start getting upset about something my husband was doing or just overwhelmed in general, my husband would say, "This is all part of my evil plan." It would help me re-set realizing that he doesn't have an evil plan and we would get a laugh out of it. -Anna
Never go to bed angry. I know it's what everyone says but it's a rule my husband and I have made. If we are angry at life or each other or whatever it could be we always talk it out and go to bed without weight on our shoulders. -Mikayla
Intimacy (physical, mental, emotional) is vital for a healthy relationship. It is important to invest in alone time together to foster a relationship that is rich with communication, appreciation, and respect. More than just sex, nurturing intimacy will grow your marriage and your ability to parent harmoniously. -Tiarra
Tip 2: Continue to Date Your Spouse
Intentional time and "dates". These dates might even mean takeout on the couch after baby goes to bed for the night. Take advantage of alone time and make it count. It's easy to pick up a phone (social media/games/etc) but don't! Use that time to chat and stay connected with your spouse. -Leah
Put your husband first (after God). It's easy with a truly good and Godly man. -Connie
Keep dating your spouse. Dates might look differently with a new baby. It may be a breakfast date and you pop some waffles in the toaster, or someone picks up take out and you have a picnic lunch date while the baby sleeps, or order a pizza and have a movie night at home. No matter what you decide to do, just make sure you keep dating each other. The love that the two of you have is what started your family. This relationship will be the one that stands once the babies have grown up and left the nest so continue to build a strong foundation together. -Diane
Make regular date times an absolute priority! Put them on the calendar in advance, so that busyness doesn't crowd them out. Rely on your church family for reliable sitters. -Rachael
Tip 3: Let Him Be a Dad
Our childbirth class instructor separated the mommies and daddies and talked with each of us separately. For the soon to be mommies, she told us that mommies and daddies would do things differently. She said to let the daddies enjoy their new baby and to let them do things their way (even if they put the diaper on backwards) unless they were endangering the baby. This was such sage advice that I definitely took to heart! I've had many-a-friend say that their husbands won't help with "anything" and I've seen these same friends nit-pick every little thing (or many things) their husband does. Sometimes it's best to leave the house for awhile and let your husband "learn" how to be a daddy. He's new at this too! -Anna
Praise your hubby! Tell what an awesome daddy he is. And don't feel mom-guilt leaving baby with him to get some me-time. It is good bonding for him and baby! -Cheryl
Let daddy take some of the work to care for baby. A lot of time as new moms, we just naturally start to do everything for baby- don't! Include your husband and ask him for help so he feels included. This will help develop family unity rather than him feeling left out of it. -Leah
Tip 4: Got a Marriage Tip? Date Idea?
Submit a tip or encouragement to see it appear here. Thank you!
Date Ideas for New Parents
When our first two daughters were younger we teamed up with two other couples in our Small Group that also had two children each. We would take turns on a Saturday morning; two couples would go on a date while the third couple would watch all of the children then we would rotate. We chose mornings so that everyone was in a good mood and we didn't need to worry about bed-time, etc. -Anna
Weather permitting, take a stroll at a local park- it's free! -Rachael
Pack a picnic and just drive. You never know what you might find along the way. -Mikayla
Go out to eat, even if it's challenging with baby. Time it while baby is going to be sleeping and enjoy yourselves! It's worth it. -Cheryl
The Last Thing You Need to Know about Marriage for New Moms
Everything has changed after becoming a new mom, especially, your relationship with your spouse. Talk to your spouse about your needs and express your love to them! Start investing in your marriage one step at a time.
What are your best marriage tips for other new moms? Comment or submit them below!
Read more about our family here…
Please follow and like us: