So, you just found out you're pregnant. Whether this is your first time or 8th – congratulations!
Today, I'm sharing the 13 (natural) things to do when you find out you're pregnant.
When I was pregnant, I wanted to do things as naturally as possible to give my baby and myself a healthy and enjoyable pregnancy. Maybe, you're hoping to do the same!
Let's jump into the first things to do after finding out you're pregnant for a natural pregnancy.
Most of the clickable links on this page are affiliate links. That means, I recieve a small commission for each item you buy through my link at no additional cost to you .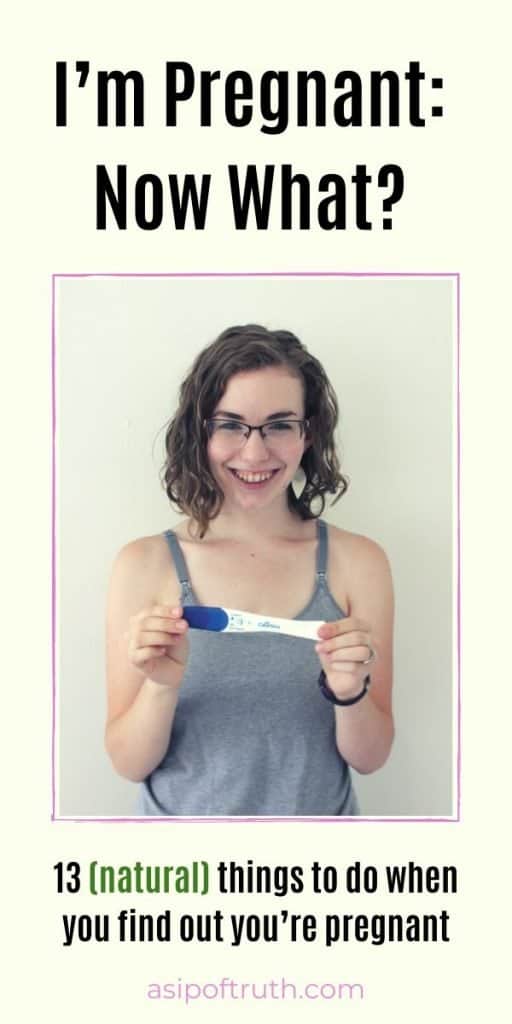 I am in no way a medical professional; the advice on this blog is to be viewed as opinion only and NOT to be used in place of a medical professional. Please – consult your medical provider for any and all health needs or questions.
I'm Pregnant: Now What? 13 Natural Things to Do
1. Tell Your Husband That You're Pregnant!
What an exciting moment for the two of you to revel in! Enjoy soaking in your big news as a couple before skipping ahead to telling others, researching, scheduling or anything else. 
Related: 14 Pregnancy Announcement to Husband Ideas (including cute holiday announcements)
2. Decide When and How You're Going To Announce Pregnancy
This was something really fun to plan with my husband. Did we want to tell family members separately? How long would we wait to tell them? Should we do a fun surprise or just tell them straight?
A Note on 'The 12 Week Rule'
Some choose to wait until 12 weeks to tell anyone they're expecting because the risk of miscarriage is highest before 12 weeks. I guess that is to save from the heartache of having to then announce a miscarriage in that tragic event.
After having been through a miscarriage, I think you should share your news whenever you want to and to whoever you want to. (Which coincidentally I announced our miscarriage publicly the same week that I would've been announcing pregnancy – I wanted to celebrate the life of our dear baby and mourn with the support of our friends.)
Wouldn't you want your closest friends and family to know of the life you carried and lost anyways? Wouldn't you want the support of your loved ones in that tragic event? I do. But, that's just me.
Consider this while deciding how you want to announce pregnancy.
3. Boost Folate Naturally Through Your Diet
I'm starting to think (in my non-professional opinion) that eating a folate-rich diet is almost more important than taking prenatal vitamins. Folate-rich meaning that you are eating so many high-quality folate foods throughout the day that your vitamin pales in comparison.
I have a post dedicated to which foods are highest in folate and how to work them into your diet. (oh, and there's a free meal plan and food chart printable)
4. Start Taking (Or Continue Taking) A Folate-Rich Prenatal Vitamin
Avoid folic acid like the bubonic plague. I'm serious. Folic acid does help boost folate levels in the body but guess what? It can also cause detrimental issues during pregnancy with those with MTHFR.

"The MTHFR defect, which some say affects up to 50-60 percent of the population, makes it difficult for your body to convert folic acid (and even folate) into a usable form (called methylation). Because folate deficiencies are associated with some birth defects such as spina bifida and neural tube defects, it's vital to know if you have the MTHFR mutation and, if so, to take the right form of prenatal when you are pregnant." –MamaNatural.com

Here are a few options for a high-quality natural prenatal vitamin:
5. Prepare for Potential Morning Sickness
There's no way to know if you will be struck down by cruel morning sickness. It's good to be ready for it in case it does come. I wish someone would have told me to be prepared for morning sickness during my first pregnancy when I had it the worst!
Buy citrus essential oils like lemon, orange, grapefruit and/or lime. (Go here to see where to buy the cheapest, but still high quality, oils and how I use them.)
Prep meals to reheat or throw in the Crockpot when you're too sick to eat. (Post coming soon about how I made 30 meals for morning sickness during my second pregnancy)
Make drinks that will help you stay hydrated and boost electrolyte levels. My favorite: Mommypotamus's Electrolyte Drink
Start eating on a "schedule". Eating meals closer together will help maintain steady blood sugar levels which will keep morning sickness at bay. If you feel extra hungry, eat. If you start feeling nauseous, eat.
Read more about preventing and managing morning sickness on this post.
6. Schedule First Prenatal Appointment
Find an OB-GYN office or midwifery that is taking new patients. Pick a midwife and schedule your first appointment for around 12 weeks.
Some midwives will want to see you sooner, and that is fine, but mostly it is to do an ultrasound or confirm pregnancy. In my mind, I know I'm pregnant based on the pregnancy test I took and missing period. Not to mention, pregnancy symptoms. I only do one ultrasound during pregnancy at 20 weeks (for my sweet husband's sake) so I don't need or want the early pregnancy ultrasound either.
Other reasons to go to the midwife early in pregnancy: if you're considered high risk, if your hormone levels could be low/off-kilter, if you're bleeding, and if you jolly-well want to.
I came to peace during my miscarriage that even if I had gone to the midwife early in pregnancy there is nothing she could have done to prevent my miscarriage. If anything, I just would have been more concerned and devasted while waiting for my body to miscarry naturally. Unless medically necessary, I will always go to the midwife around 12 weeks.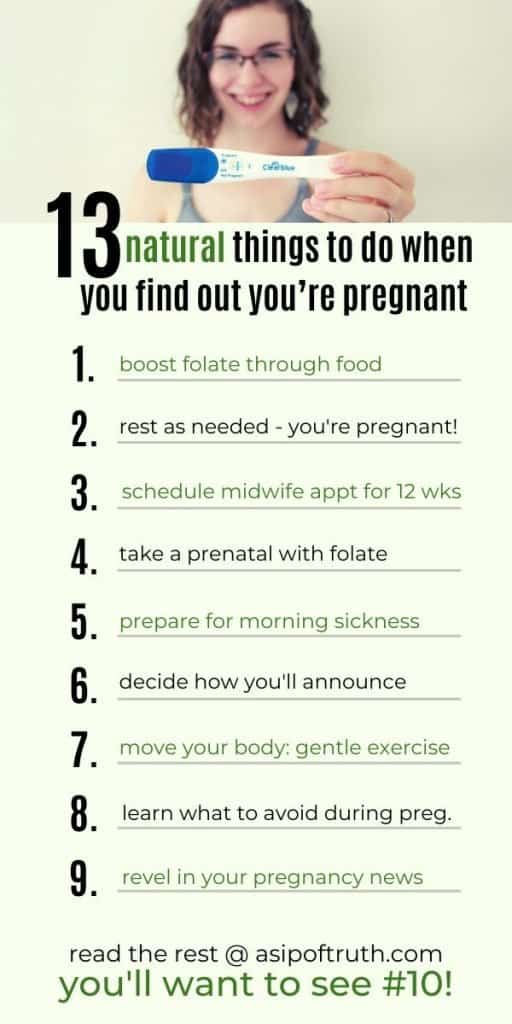 7. Rest As Needed – Remember, You're Pregnant!
Okay, this one may seem silly but it was very hard for me to actually rest during early pregnancy. I felt like I should push through the fatigue and exhaustion during the first trimester.
But why? My body needed rest and so does yours. You could be feeling tired because your body is literally creating another spine (for your baby, of course) or lungs or a heart. Rest! You need it right now.
8. Move Your Body
This might seem confusing after the last tip to rest. Yes, you need to rest but it's also great for your body to have frequent gentle movement.
MommaStrong* offers a great program for pregnant moms (and any other season of motherhood) that will help you actually boost energy levels, curb pregnancy nausea, and relieve aches and pains.
*NOT an affiliate link, MommaStrong does not allow/participate in MLM techniques or affiliate marketing in any way.
Daily walks are also a great idea to stay active during early pregnancy.
9. Write Down Memories of Being Pregnant
Get a pregnancy journal and start writing down your thoughts/feelings during pregnancy. Document everything that is happening during early pregnancy. You won't want to forget this time of your life!
10. Start Reading Everything You Can About Natural Pregnancy and Childbirth
I found that almost every stage of pregnancy, labor, and delivery seemed less daunting once I knew more about what was happening. Feeling confident and well educated on what you're going through is so helpful – especially, as a first time mom.
Here are some of my favorite resources:
11. Download a Pregnancy App
I loved following along with my baby's growth with my pregnancy app. The app also gave me fun facts about my baby's development each week, along with helpful hints of what I could be experiencing and why.
I used The Bump's app but there are so so many you could choose from.
12. Revel In Your Pregnancy News!
Just darn well enjoy it! You are carrying life. LIFE. A tiny human is growing from nothing to something amazing in you right this second. I know pregnancy is a challenge mentally, emotionally, and physically BUT just set that aside for a second to realize how miraculous it is that YOU get to do this.
13. Learn What to Avoid During Pregnancy
I'm not going to go into detail for each of these because I think you should go and do your own research. And, some are well-known no-nos for pregnant moms.
Alcohol
Smoking (of any substance)
Foods
Caffeine

Look up the most recent guideline for how much caffeine you can have per day or ask your medical provider. Last I checked, pregnant women can have one good-sized cup of coffee per day. Just keep in mind there is caffeine in more things than just coffee!

Medications

During pregnancy, my rule of thumb is to avoid any medicine if at all possible.
Here are Mama Natural's guides to treating a cold and flu naturally.
Congratulations, newly pregnant mama!
I'm so excited for you as you embark on this new journey of motherhood. Can you hear me squealing with joy from where you are? 'Cuz I am! 'Cuz I love babies. And pregnancy. And natural birth. And motherhood.
Related Posts: