You generally knew what to pack in your hospital bag but what about snacks for the hospital bag?
What are the best healthy snacks to pack in hospital bag?
Let's look at the best snacks to bring to the hospital.
Related: Natural Birth Hospital Bag Checklist for Minimalists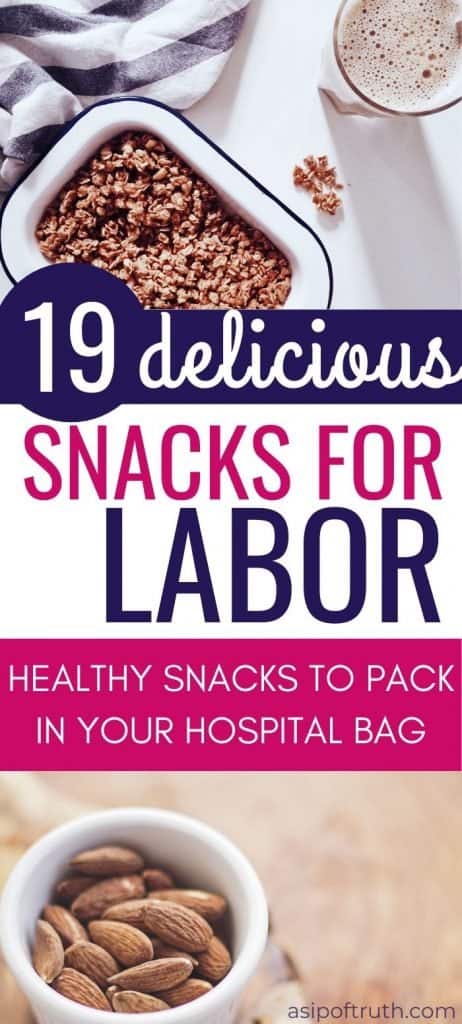 The Best Snacks to Take to Hospital For Labor
The best snacks for labor really depends on which part of labor you're in, what your preferences are, and if you're already at the hospital.
We stayed home as long as possible when I birthed our first so that I could eat, drink and move freely in the comfort of my own home. So, some of the snacks that I recommend to eat during labor would be easier to do at home. At some points of labor, I was ravenous and wanted something hearty and salty. Other times, I wanted something lighter and on the sweet side. I just ate little bits as needed and followed my body's cues.
Snacks during Labor
During labor, you will want your snacks and meals to be high in carbs, protein, fats, and deliciousness.
Follow your body's cues for what it needs. Craving something lighter? Have a muffin or yogurt. Needing something more substantial? Eggs, cheese, and fruit might be better.
Here are some ideas for healthy snacks during labor:
Muffins
Trim Healthy Mama cakes (I loved the banana cake, affectionately called BAM cake, during labor)
Fresh or dried fruit
Cheese
Yogurt
Trail Mix or plain nuts (almonds, peanuts, macadamia nuts, etc)
Eggs
Trim Healthy Mama or Sourdough pancakes
Smoothies
Avocado
Cottage cheese and fruit
Cold veggies (carrot sticks, cucumber, peppers, celery)
Sandwiches (meat and cheese, peanut butter and jelly, PB and honey and banana)
Oatmeal (or these awesome oatmeal on-the-go cups)
Applesauce/Chia squeeze pouches
Honey sticks (or, be like me and bring a tub of honey and a spoon)
Snacks after Birth (the stuff you packed in your hospital bag)
Right after birth, if possible, get yourself a full-on meal. Girl, you've earned it!
But, otherwise, there will be many times that you find yourself (or your hubby) very hungry and mealtime is still hours away.
Here are some non-perishable and/or non-refrigerator-able snack ideas:
Granola bars: Kind bars, Cliff bars, Nature Valley's Sweet & Salty Nut bars
Applesauce/Chia squeeze pouches
Trial mix or plain nuts (macadamia, pistachio, almond, etc)
Fruit (apples, bananas, mandarins, avocado)
Dried fruit (raisins, dates, etc)
Jerky – YES to this, we survived because we had jerky and a few granola bars. LIFE. SAVER.
Muffins
Nut butter to-go cups with pretzels/fruit/crackers/rice cakes
Chocolate
Drinks to Pack for Labor
You're here for just snack ideas but girl, you need to remember hydration is very important for a good labor and delivery and good milk supply afterward.
A few drink ideas for labor and delivery:
Are Snacks the Most Important Thing to Pack in Your Hospital Bag?
My answer: hands-down, 100,000% YES.
When I asked my husband the best snacks to take to hospital for labor, he said, "I don't know – whatever they like!" And that's that.
Of course, these are all just ideas. Take what you like and leave home what you don't think will work. Moral of the story? Make sure you at least pack something that you can snack on!
For more snack ideas for new moms, head over to this post to get 15+ snack ideas for breastfeeding moms.
Still packing your hospital bag? Check out my must-haves for a natural birth. (and grab the free printable Minimalist Hospital Bag Checklist!)