Some women claim to give birth naturally without pain but, uh, the majority of us need some tips to manage labor pain.
In this post, I will try my best to teach you how to give birth naturally without pain. Or, as little pain as possible.
These are the very things that helped me to achieve a peaceful and empowering natural birth.
Let's jump in!
Disclosure: I am happy to let you know that I am an affiliate for the Birth It Up course – it is an honor to align myself with an amazing natural birth educator like Liesel Teen.
How To Give Birth Naturally Without Pain
So – you're scared of the pain of childbirth like I was?
The more I learned about childbirth and talked with other moms, the more I didn't want to give birth. When I first found out I was pregnant, I felt indifferent about birth. Like, eh. I'll make it… right?
Then, the fears came. Will I tear? How bad is the pain? What does it feel like to give birth? Can I even do this?
After learning more and immersing myself in all things natural labor and birth, I felt ready. I looked forward to taking my best shot at natural childbirth.
And guess what? I did it! I had an amazing unmedicated birth. Better yet, I am excited to do it again!
I want to help you get there, too. Let's walk through this step-by-step together!
I am in no way a medical professional; the advice on this blog is to be viewed as opinion only and NOT to be used in place of a medical professional. Please – consult your medical provider for any and all health needs or questions.
Birth Naturally Without Pain: Things To Do During Pregnancy
Step 1: Practice Relaxation Techniques Now
The Birth It Up course (the only course that I recommend taking) goes into the science behind relaxing during contractions. In particular, relaxing your jaw. Hint: the course explains that sciencey stuff in detail.
Wait, hold up a minute. Did I just say RELAX during contractions? Is that even possible?
One word. Breathe.
The way you breathe during contractions can make or break your birthing experience. Slow, long, steady breaths are crucial to a positive birthing experience.
According to this article by Evidence Based Birth, researchers have found two reasons that focused breathing works for pain relief.
Focused breathing distracts you from focusing on the pain you're going through. It gives you something positive to focus on. Focused breathing can feel empowering because it is something that you actually have control over during labor.
It also releases endorphins – AKA natural pain relief from within.
Put In Into Practice
First, sit down with your birthing partner. Practice slow focused breathing and have your partner count your breaths. This will be your/your partner's guide during labor of what your typical slow breathing pattern is.
Next, get a cup of ice cubes. You'll also need a timer handy.
You are going to practice your relaxation techniques during controlled pain.
Here's the gist of what you'll be doing: hold the ice cube in one hand. Set the timer for 60 seconds and squeeze the ice cube as hard as you can for the full time. (this is like a contraction) While still holding the ice cube, rest for 1.5 minutes before your next contraction comes. Set the timer again for 60 seconds and squeeze the ice cube. Do this for a few "ice cube contractions."
Hold ice cube for 30 seconds (early labor)
Squeeze ice cube for 45 seconds (first contraction)
Hold ice cube for 1 minute (rest)
Squeeze ice cube for 60 seconds (longer contraction)
Hold ice cube for 45 seconds (rest)
Squeeze ice cube for 70 seconds (pushing time)
No cheating! Replace your ice cube as often as you need to maintain size and coldness. No switching hands either!
During this exercise, practice your focused breathing. Remember your typical breathing pattern that you noted in the first step.
You can practice swaying while leaning on your partner, rolling hips on a birthing ball, side lying with pressure being applied to your back, bouncing on a birthing ball and so on.
Utilize positive affirmations and practice speaking them over yourself or having your partner say them to you.
Then, congratulations! You're all done.
Step 2: Take An Empowering Birth Class
The best way to truly prepare for birth is to attend a birthing class!
Reading online will get you a long way but there is nothing quite like a full-out birth class to get your mind ready.
Sign up for the Birth It Up course – gain the confidence you need for your natural birth in under 3 hours in the privacy of your home.
Liesel Teen (Mommy Labor Nurse.com, creator of Birth It Up) is a labor and delivery nurse and mom who is passionate about helping other moms through childbirth.
This course is affordably priced at $39 because she wants to provide education to as many women as possible, which I love!
We felt more at ease about labor after attending a local birthing class BUT I felt like I could birth like a rock star after going through the Birth It Up Course. This course took me from a scared first time mom to a natural birthing goddess… or, um, something like that.
I WANT TO ENROLL IN Birth It Up NOW
Can't afford natural birth classes? Are childbirth classes really necessary? I answer that in this post.
Step 3: Join A Community Of Naturally Minded Mamas
Reading positive birth stories changed my view of birth. Watching natural birth videos is what encouraged me to commit 100% to my own natural birth. And it all started with a Facebook group!
My all-time favorite Facebook group, Natural Birth Support Group, has recently moved to a website. First, register for an account. Then, you can join the private forum through this link.
In this group, you can read the amazing birth stories of other women, ask any pregnancy/postpartum related questions and find a sisterhood of natural mamas.
Another group that I recommend is the Birth It Up support group. Access to the invite-only Facebook group is included with the Birth It Up course.
In the private Birth It Up group, you will
be able to read many stories of positive birth experiences.
get advice from Liesel Teen, a labor and delivery nurse and the creator of Birth It Up.
ask any questions you may have about birth/pregnancy/postpartum.
find a community of women who are trying to do the same thing as you!
Feeling supported and knowing that you're not alone is so vital to feeling confident about birth!
3 Effective Tips To Give Birth Naturally
Tip 1: Focus On The Breaks
We have already talked about relaxation during contractions. Now, let's talk about resting in between contractions.
It is vital to rest as much as possible throughout labor!
During labor, you must intentionally enjoy every rest in between contractions.
Let's think about labor like a cherry.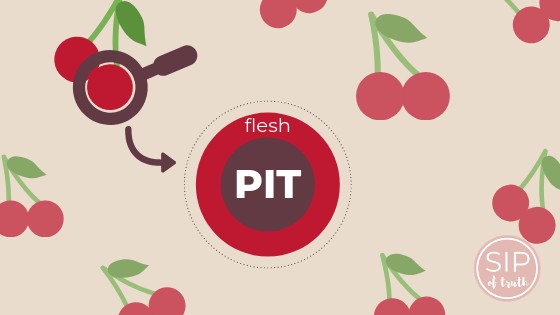 If when you thought of cherries, you only thought about the pit… well, then no one would eat cherries. Who would want to bother eating cherries when really all that you can eat is the tiny bit of cherry flesh wrapped around a big pit!
But, when you think about how delicious and sweet the cherry flesh really is, you quickly forget about the pit.
So, with labor. If all you think about is the pain of each contraction, you will completely miss out on the tiny bits of sweet rest. But, if you focus on how wonderful those little moments of rest are, you will have more stamina to get through contractions.
My tip: After each contraction sigh then say aloud, "Whew, I'm done with that one. Now, I can rest." Then, rest!
Take deep breaths. Close your eyes. Enjoy the moment.
Tip 2: Get Primal
Allow instinct to take over your body. You were made to do this! Trust in the process.
Lean into the pain, it is bringing your baby closer to you.
Eliminate distractions around you. So, dim the lights, turn off the TV, soft music if you like it, limit visitors.
Go somewhere you feel safe and secure.
Allow your body to move as it needs to at the moment.
Welcome the sounds that you're making. Moaning, groaning and the like help release pain and can motivate you to press on.
This is yours and your baby's day. You make the rules. And you set the tone.
Tip 3: Using Essential Oils To Give Birth Naturally
Unfortunately, I never had the chance to diffuse essential oils before my daughter was born. (Hint: read my birth story here) I can attest to the power of essential oils during the fourth trimester (postpartum) and when applied topically. Essential oils helped balance my emotions during the newborn phase. I found instant mood support with essential oil use!
Always use caution and talk to a trusted medical professional before using essential oils.
Diffuse peppermint for increased focus and boosted energy.
Diffuse lavender to help promote relaxation.
Apply lavender (diluted with a carrier oil) on the skin to assist in healing.
Apply clary sage for more efficient and productive contractions.
To read more about the 6 must-have essential oils and how to use them, click on the link.
Diffuse uplifting oils for energy and emotional wellness. My favorites are:
Joy Young Living (YL) Blend: a floral, feminine blend to uplift mood. Joy is inspiring and cultivates feelings of warmth and togetherness. It also smells simply AMAZING!
Stress Away YL Blend: relaxes mind, body, and environment. It has a warm vanilla citrusy scent. This blend features lavender, cedarwood, and copaiba for pain relief and feelings of wellbeing.
Valor YL Blend: gives courage and energy. I diffused Valor constantly when my daughter was born and I believe it is the reason I coped so well with the newborn phase. Valor has a strong earthy floral scent
Related: How To Become A Wholesale Young Living Member
I have more information about using essential oils for pain relief during pregnancy in my post, "8 Tips to Relieve Pain in Pregnancy."
Grab your copy of the Natural Birth Mega Pack – 8 pages of must-have info for a natural birth! Including, a helpful essential oil guide.
The Last Thing You Need To Know to Give Birth Naturally Without Pain
Achieving a natural birth- totally doable! A pain-free birth? Questionable but possible.
As a refresher, here's what we talked about in this post:
Practice relaxation techniques now.
Take an empowering birth class. (I recommend this one.)
Join a community.
Focus on the breaks during labor.
Get primal, you birthing goddess!
Use essential oils to help you during labor.
I hope you click off of this page knowing one thing: you can do this!
If you found this post helpful, please share it!
Next… Read my post, Natural Birth in a Hospital: A Young Mom's Guide, to find tips to prepare your body for labor and delivery.