This is the ultimate guide to practical (and thoughtful) gifts for nursing moms.
If you want the best gift ideas that will fit your budget and really bless her, then you'll be tickled pink to find them all in one site.
AND most of these gifts can be found on Amazon. (Two-day shipping because everyone forgets to buy a present for an upcoming baby shower at least once in their life.)
Let's dive right in with gifts for nursing moms under $15.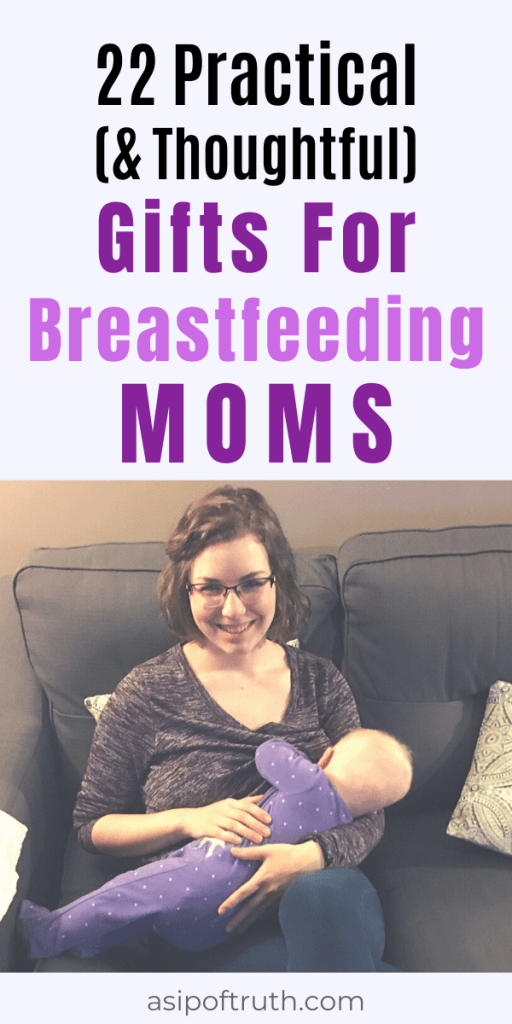 Psst, have you already read my popular post Best Gifts For New Moms?
This page contains affiliate links to products we recommend. If you purchase something from this page, we may receive a small percentage of the sale at no extra cost to you.
Gifts For Nursing Moms Under $15
The Haakaa Manual Breast Pump gives sweet relief to engorged, clogged, and tender breasts. This hand pump releases some pressure without giving your body the signal to make more milk. Your new breastfeeding sidekick (hint: this pump) fits easily in a purse or diaper bag for when you're out and about.
Or you can buy it with a lid.
Mother's Milk Tea by Traditional's Medicinals
I struggled with oversupply so I never drank this tea for the intention of boosting milk supply. But, I do know that my friends that have tried it love it. I've heard that it really does help with boosting milk production.
Devotional Book or Other Good Book to Read
There is a lot of time sitting with nothing to do when you're nursing a baby. A LOT. Like, work your way through multiple series of TV shows. I got so tired of always being on my phone or watching TV while nursing.
Listening to a book on Audible is my preference, but sometimes there is something so nice about holding a book and reading. Get her a good book to read or a devotional book to work through.
Poop explosions. Spit up. Baby barf. Spilled coffee. General mothering chaos. This water-resistant pillow cover saves your Boppy pillow from everything.
(don't forget the soft cover to put over this protective layer!)
Oh, sweet tender nipples, how I do not miss you. This nipple cream works wonders on sore, dry, and cracked nipples. 'Nuff said.
Kindred Bravely's reusable nursing pads are super absorbent and are a nice size. I'll be completely honest with you though; Bamboobies nursing pads are softer and lay smoothly against the breast, therefore, hide better under clothing. I enjoyed having both brands and used each at different times.
You may have already read me sing the praises of Hanalei's lip treatment in Best Gifts For New Moms… It's time to sing again. Y'all. This stuff rocks! Breastfeeding mom's lips need the love and care that Hanalei's lip treatment gives. It's smooth, it's tinted, it smells great and it works wonders.
Gifts For Nursing Moms Under $35
Bamboobies nursing pads are very soft and stay hidden under clothing. Those two things are super important to new moms!
The thinner daytime nursing pads are for exactly that – daytime. They aren't thick enough to handle nighttime leaking or if you're a heavy leaker upon letdown. I always leaked a good bit on the side that wasn't being nursed and Bamboobies daytime pads could barely contain strong letdowns.
Water. Book. TV remotes. Hand pump. Nursing pads. Spit up rags. A small plate of food. All balanced on the arm of the couch. The baby flails right as you sit down causing all of it to fall onto the couch and off the couch to the floor. (Real-life example) Your girl needs a tray! Get her a tray so that she can set everything down on the tray without worry.
This gift is pretty practical and straightforward. Her Boppy pillow needs a cover (or two). This one is simply the best there is. Super duper soft and cozy with great designs.
I recommend buying two because it is convenient to have one to use when the other is in the wash for, to put it nicely, accidents. (Pssst… protect her pillow with a water-resistant cover)
I really like these stretchy nursing covers – they're useful for so many things. Not to mention, they keep you covered while your baby's hands flail and search around.
Or get her the spendier option.
A Boppy nursing pillow is a must-have for nursing moms. Boppy nursing pillows save your back, arms, and give you so much support. Definitely a must-have for nursing moms! (Be sure to get her a water-resistant cover and a super soft top cover)
Holy goodness, this sleep bra is SOFT. It stretches enough to ebb and flow with your milk supply. Yet, it holds its shape well. It's soft on tender, full breasts. Easy access for night nursing is also a must!
Water Bottle
When I was breastfeeding, I was just so darn thirsty. I couldn't drink enough water… and that's mostly because I couldn't ever reach my water bottle once I was finally sitting down to nurse. Get her two so that she can always have water nearby.
Other Great Gifts For Nursing Moms
Nursing Friendly Clothing
Basically, your girl needs some clothes that are suitable for nursing.
I thought that it wouldn't be that bad to just wear normal clothes. WRONG. Or, just buy cheaper nursing clothes. WRONG again. It is so, so much easier to nurse when you have good quality nursing clothes. I have some essentials listed below.
Kindred Bravely – excellent quality and fit
Cheaper (but not as nice) option on Amazon
Glider or Rocking Chair
I'm not sure how, but I made it 15 months without a rocking chair or glider. This would have been so nice to have when I was a nursing mom!
Nursing on our couch was fine but there were times that it would have been nice to be snuggled up in the nursery with my baby. Not to mention, how comforting it is for a mom to rock her baby. Go in with a few others to get her this big-ticket item.
(you may have already heard me blab about this in Best Gifts for New Moms)
I listen on Audible basically every day. My mind is so much sharper and doing chores (ahem, folding laundry) is so much more tolerable now that I can listen to a book.
At first, I wanted an Audible subscription because it felt like my mind was rotting while I sat on my phone or watched TV for hours on end while nursing my baby. Audible has given my brain something productive and exciting to do while I nurse or do other (somewhat) mindless tasks.
A Subscription to Her Favorite Magazine
Ahh, the lost art of sitting and leisurely flipping through a magazine. One subscription idea: Magnolia Journal – 'cuz who doesn't love Joanna Gaines.
Meals and Snacks
Don't forget about the magic of a meal (or snack). Seriously, a home-cooked meal or take out would make a world of difference in a new nursing mom's life.
Easy one-handed snacks are great to bring to a nursing mom. Nighttime feedings and an increased appetite leads to a lot of snacking – ask for her favorite shelf-stable snacks and fill up a basket for her.
After you've bought her gifts, make sure to schedule a time to take her out! She most likely is feeling lonely and wants to have a friend to chat with about anything and everything.
Related Gift Guides: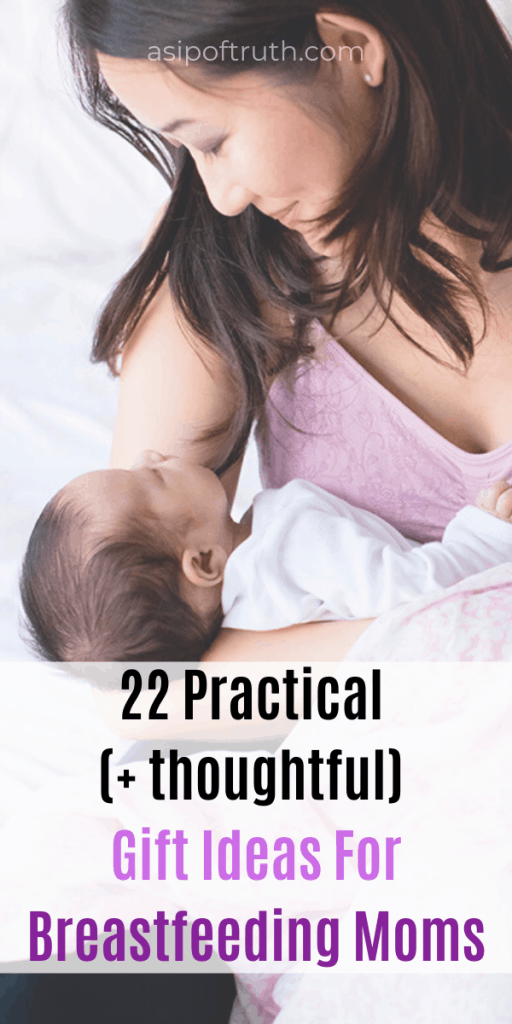 Please follow and like us: