Look no further for the best gifts for new moms! How can you know these are the best gift ideas for new moms? Because I'm a new mom!
Whether you're a new mom looking for gift ideas to put on your wishlist or you're buying for your favorite new mom – you'll find something perfect to buy that fits in your budget.
Most of the clickable links on this page are affiliate links. That means, I recieve a small commission for each item you buy through my link at no additional cost to you .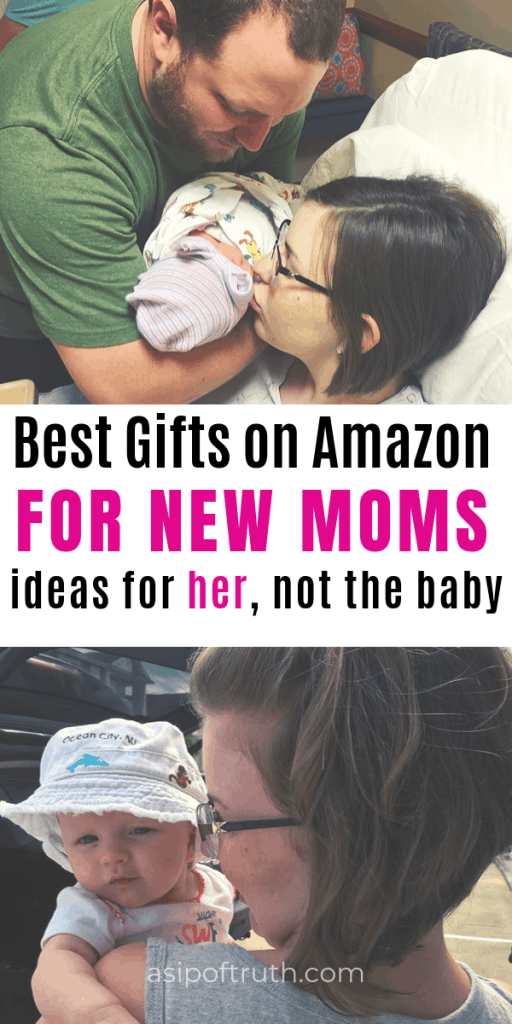 Gifts to Buy For New Moms on Amazon
Gifts For New Moms Under $15
Say goodbye to hair creasing and your hair getting pulled out. New moms need their hair out of reach from their baby without it getting yanked out by their hair tie. (PS these double as a baby toy – my daughter loves to play with these.)
I have this exact mug and it is awesome! Be warned though, it stays hot for a really long time. I have burned my mouth many times by sipping too soon.
Forget about your average lip balms – Hanalei's Lip Treatment is the absolute best. It smells like heaven and gives your lips sweet relief. I love that it is tinted to give you a more polished look. Hey, tinted lip gloss counts as a full face of makeup for new moms!
Relaxation to me is sitting in the tub listening to a good book on Audible with a sheet mask on. Ahhh. Treat your favorite new mom to a mini spa treatment with these face masks.
Gifts for New Moms Under $25
Klorane's dry shampoo sings lullaby's over greasy new mom hair. This stuff rocks! Paraben and sulfate-free perfection for 4th-day hair.
Water Bottle
New moms, especially breastfeeding moms, are just so darn parched! I'm telling you -straight up thirsty. But guess what? It always seems that you're all set up in the prime nursing position when you come to realize you're SO thirsty and your water is 5 miles away at the other end of the coffee table.
Get her two so that she can have more than one around. Both of these options have leak-proof tops so they're perfect for the couch or bed.
Do I even need to explain this one? New moms need a mug warmer. It's so much easier to plop your mug on a warmer than to keep reheating in the microwave 10 times throughout the day because you keep forgetting it's in there. (spendier option: Ember Temperature Control Mug)
Dr. Hempster's essential oil bath bombs are the bomb… ha! Pun totally intended. Seriously though, how can you go wrong with vegan hemp oil and coconut oil bath bombs that will nourish your skin naturally? (don't forget to grab a drain cover – total game changer!)
Gifts for New Moms Over $50
These leggings lift, tuck and suck everywhere you want it. These high waisted leggings are perfect for new moms that may want to have a little bit of smoothing over their tummy. (Don't worry, they aren't see-through)
Um – this gift idea will probably make it on every gift guide ever on A Sip of Truth. I love using Audible that much! New moms are often trapped under their precious newborns with nothing better to do than scroll on their phones. After a few months, she will start going crazy. As a new mom, I felt like my mind was rotting because of all of the screen time. Both the TV and my phone weren't cutting it anymore.
Audible has been my saving grace during early motherhood. My mind has somewhere to escape to and something to focus deeply on. And, because of Audible, I actually can read while keeping a home and running after my now toddler.
The world's first temperature control mug – it's about time!! You can control the temperature of your drink with your smartphone. There is one-hour battery life on the mug but you can keep it hot longer by placing it on the warming plate.
Gifts For New Moms That You Can't Buy on Amazon
Give the gift of life and continence (yep, totally went there) with a MommaStrong membership. MommaStrong is an online gym of sorts. Courtney Wyckoff uploads daily made 15-minute exercise videos curated specifically for moms. This program can be started during pregnancy, right after giving birth or somewhere thereafter.
Cute Handcrafted Tee To Show Off Her New Title – "Blessed Mama" Tee
I love my handmade blessed mama tee! When I became a new mom, I wanted to shout it from the rooftops. After trying to conceive for nearly 2 years, I was ecstatic to be a mom and I wanted to tell everyone with a tee.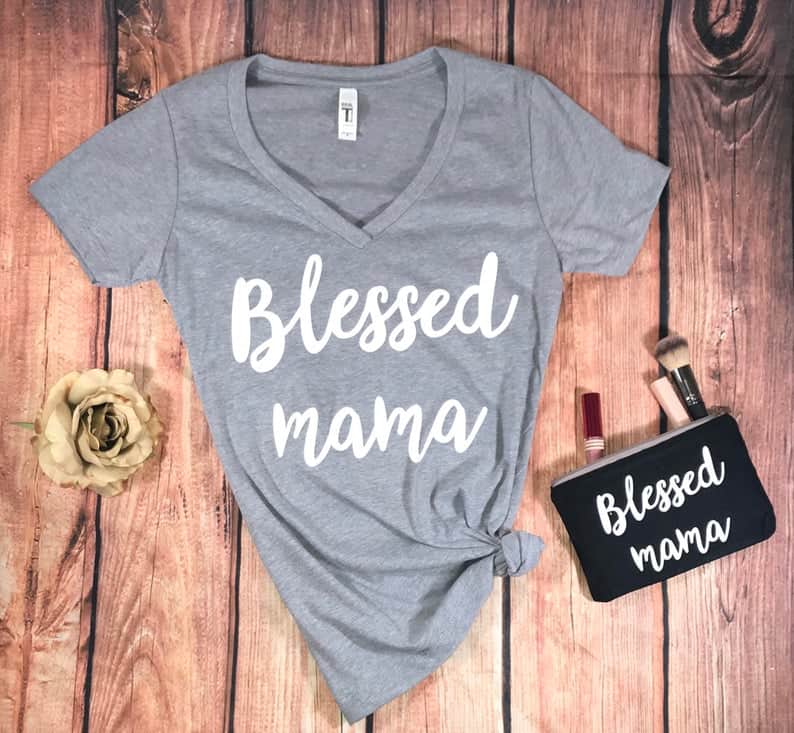 Basically Everything and Anything from Kindred Bravely
Every new mom deserves the comfort and quality of Kindred Bravely clothing. Made by moms for moms, thank me later!
By the way, I could have used Amazon links for the Kindred Bravely items BUT you will really want to order directly from Kindred Bravely to have full access to their amazing customer service.
What She Wants But Won't Ask For
Alone Time
Offer to give her a few hours of free time to do whatever she wants or needs to do. She may want you to hold the baby while she naps, goes for a walk, runs errands or grocery shops. If she has older children, take them out for an adventure to get their energy out.
Help Around the House
Lend her a hand while she holds her sweet newborn. I know, I know. All you want to do is hold that new baby and give her a break BUT she may just want to rest with her baby while you help get things done.
Another option is to hire a maid service for her.
Bring Her More Meals
Meal deliveries start slowing down a few weeks after a new baby comes. But, the new parents are still very much so in need of meals. Offer to bring a hot meal, a freezer meal or take-out. Don't forget that breakfast foods are sometimes just as helpful as dinner meals, if not more so.
Related Post: 10 Easy (& Healthy) Meals for New Moms (A List of Things To Bring to New Moms)
Another idea is to make her a snack basket for those middle of the night munchies – here is a list of easy snacks for new moms.
Girls Night Out
Take your new mom friend out! Show her a good time for a few hours while dad spends some quality time with the new baby.
And finally, when all else has been bought, stock up on her favorite chocolate, coffee, tea, wine, and candies.
Happy shopping!
Other Related Gift Guides: