A one-stop-shop for finding the best foods (hint: high in folate) for early pregnancy and how to work them into a meal plan.
Can I just be real with you for a second?
I have read through at least 10 articles about this exact topic and struggled to find all of the information I'm looking for in one place. 
Like, couldn't it be possible to find the best foods to eat in the first trimester that are high in folate, see the actual amounts of folate in each food, and how to actually work them into a meal plan?
You've come to the right place. I am going to be walking you through 
1. What foods are highest in folate
2. How many mcg's of folate are actually in each food
3. The yummiest ways to eat each food
4. A great (free) printable pregnancy meal plan
5. A printable pregnancy food chart for quick reference
Let's do this!
I am in no way a medical professional. Please view this post as a cliff notes version of many, many articles compiled together. Follow through with your own research using the links that I provide along with the information that I am sharing as one mom to another mom.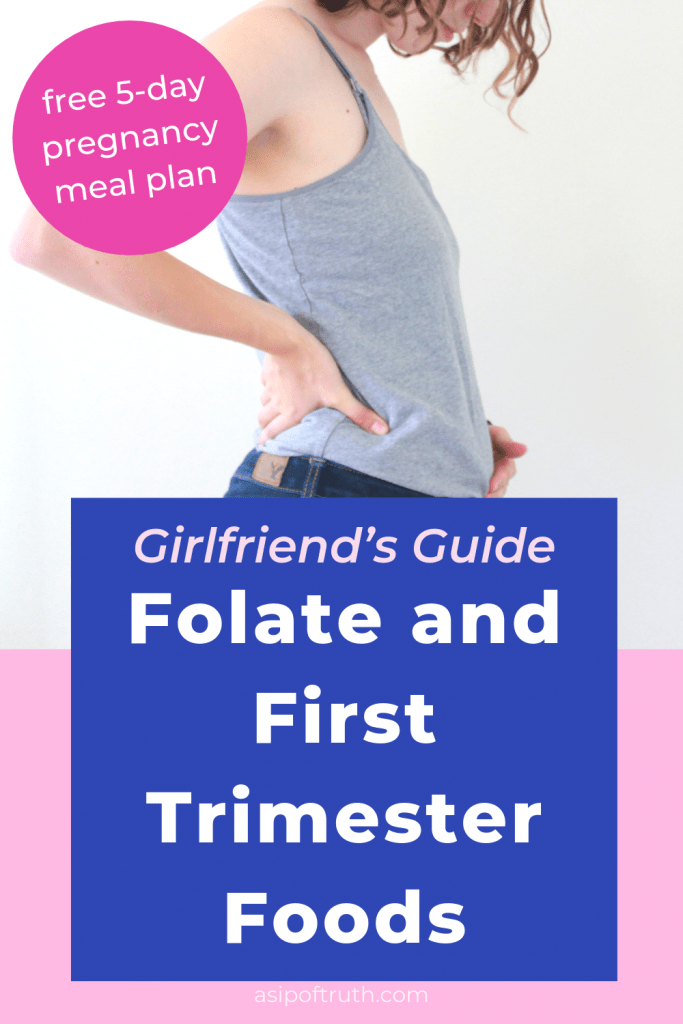 Girlfriend's Guide to Folate and First Trimester Food
Wait, wait, wait – before we get ahead of ourselves, let's talk about why it is UBER important to be getting a high amount of folate through real food during early pregnancy.
Oh, and by the way, folate is just the natural, God-made form of folic acid. Which, when you can have the real deal, why settle for a synthetic supplement?
What Does Folate (folic acid) Do
Folate is absolutely necessary during pregnancy to help with rapid cell division and growth. In addition, giving your body proper amounts (400-800 mcg of folate a day) is integral to decreasing the risk of anemia and Neural Tube Defects, like spina bifida, in the baby.
It's as simple as that. If you're wondering why you should be choosing natural folate over folic acid, go over to Wellness Mama's article "Folate vs. Folic Acid".

Top 16 Foods That Are High in Folate (folic acid's better half)
This list was compiled from the information from Healthline.com and UnityPoint.org.
I have numbered these foods based on the amount of folate per serving. (Highest to lowest) Easy, peasy, let's get us some folate.
1) Lentils, 1 cup is 358 mcg of folate and 18 grams of protein
Holy folate! Seriously, top of the list on every list. Lentils are a favorite in our family. My favorite way to prepare lentils is in the slow cooker. 
Combine one pound of brown lentils, 8-10 cups water, cayenne pepper, Bragg's liquid aminos, 2 teaspoons salt and a sprinkle of black pepper. Cook on low in the slow cooker all day. Enjoy!
2) Asparagus, ½ cup is 134 mcg of folate
Ahhh, asparagus. Tastes great but makes your pee stink. Ha! Not hungry anymore?
Easy asparagus: trim white ends off, lay on a baking sheet, drizzle with olive oil then sprinkle salt and pepper. Roast in the oven at 400 degrees for 15-20ish minutes until soft when poked with a fork.
3) Beef Liver, 3 ounces is 212 mcg of folate and 24 grams of protein
Honest confession: Never have I ever cooked liver. I'm super excited to try it though when our local butchers have it back in stock this winter.
4) Chicken liver, one liver is 254mcg of folate
I'm ashamed now. You've caught me… I've never even eaten a chicken liver. Be brave – cook some up and let me know how it goes!
5) Beets, 1 cup raw beets is 148 mcg of folate
Here are a couple of recipes to get you started on your beet loving journey:
6) Mango, 1 mango is 144 mcg of folate
Now, we're talkin'. Mangos make my heart happy. I like to eat mango a few ways:
Diced and mixed into cottage cheese
In a smoothie
Sliced and put straight into my mouth
7) Kidney beans, 1 cup is 131 mcg of folate
Get some chili going, kidney beans are just what your prego body needs!
8) Brocolli, ½ cup cooked broccoli is 84 mcg of folate; 1 cup of raw broccoli is 57 mcg of folate
I love steamed broccoli that is loaded with grass-fed butter. Yummm!
To eat it raw, dip it in some ranch!
Another way to eat it raw: Melissa's Amish Broccoli Salad (this is a family favorite!)
9) Spinach, 1 cup raw spinach is 100 mcg of folate
I can see this going two ways… in smoothies and salads. Otherwise, I'd just feel like a goat chomping on plain ol' spinach.
10) Avocado, ½ avocado is 82 mcg of folate
Thou shalt eat avocado – yes, please!
Mash and spread on toast.
Smash and scoop tortilla chips… guac is my love language.
Slice and serve on eggs, enchiladas, tacos, quesadillas, nachos, and really anything that you want.
11) Brussell Sprouts, ½ cup is 47 mcg of folate
My absolute favorite way to eat Brussel sprouts: roasted. This is a super simple but scrumptious recipe for Brussel sprouts.
12) Citrus Fruits, example: one large orange is 55 mcg of folate
13) Papaya, 1 cup raw papaya is 53 mcg of folate
14) Nuts and seeds, varying amounts of folate. Typically around 25 mcg of folate per ounce
15) Banana, one banana is 23.6 mcg of folate
16) Eggs, one egg is 23.5 mcg of folate
I know I should be eating healthy… but I'm so nauseated.
Yup. I've been there, girl.
I so desperately wanted to want to eat healthy foods but all I could stomach some days was chocolate ice cream and bread.
If you can't stomach anything whatsoever that is healthy, just eat the dang junk food. You need to eat whatever you can at this point!
On the other hand, if you're able to eat healthily but healthy food just doesn't sound exciting to you… just eat healthy food. Your baby and your body need the extra awesome nutrients right now! Let food be thy medicine.
Thirdly, make sure that you are eating every 1.5-2 hours. It will save you by squelching your nausea. During early pregnancy, hunger doesn't feel like a typical hunger. It feels like nausea and total yuckiness. When it doubt, have a little snack with protein, carbs, and fats.
Read Next: Crush Morning Sickness With These 5 Natural Tips
Putting It All Together: Folate Loaded Meals and Snacks
In summary, every 1.5-2 hours you want to be eating foods that are high in folate and have a balance of protein, carbs, and fats.
Here are some ideas to get you started. (For more healthy and easy snack ideas, click here.)
Snacks:
Turkey and spinach wrap
Banana and peanut butter
Mango and cottage cheese
Berry Banana Kefir smoothie (add ½-1 cup spinach for folate)
Avocado toast
Raw broccoli with dip
A large orange with a cheese stick
Trail mix
Meals:
Lentil soup
Chili – loaded with kidney beans
Beef liver served with asparagus and mashed potatoes
Fried eggs topped with sliced avocado, served with cubed mango
Grilled chicken breast, roasted brussell sprouts, and raw beet salad
And as promised… I present to you TWO free downloads.
All that I ask is that after you download – hit subscribe! I have tons of NEW pregnancy tips for new mamas sitting on my virtual desk. Oh, and then we can be besties for life.
Please share this post if you found it helpful!
As a (new) small blogger, Google will most likely never put this in front of the eyes of the masses… Share this post so that it can be seen by others!