Father's day is right around the corner and you have zero ideas. Zilch. Nada.
Is it boring to get him this? Would he really like another one of those?
Or, maybe he's the guy that has everything.
Put your worries behind you – I've found the best 8 father's day gifts for new or expecting dads that'll make him feel like he really is (or will be) the best dad ever.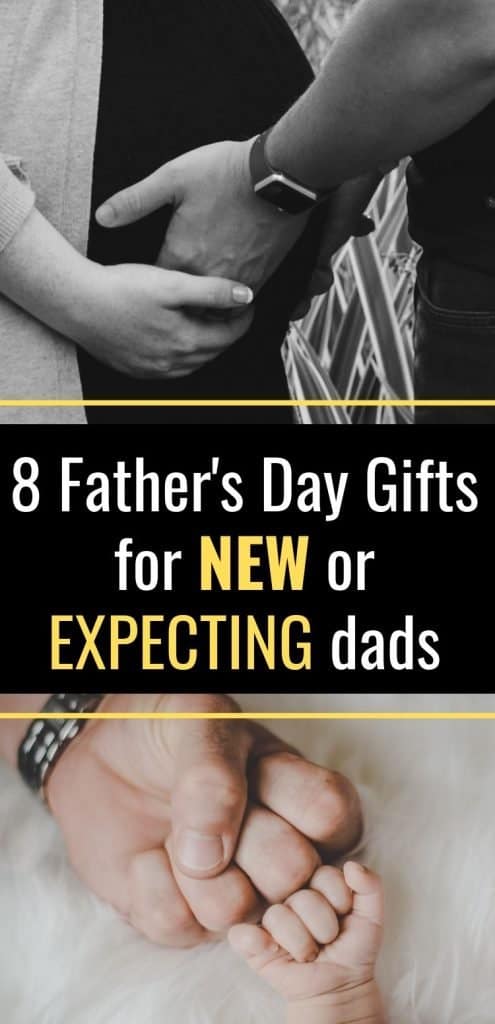 Cute Father's Day Gifts for Expecting Dads
I am using Etsy links for as many products as I can to support small businesses – please bear with me as I learn the ins and outs of sharing Etsy products and images.
Many of the clickable links on this page are affiliate links. That means, I receive a small commission for each item you buy through my link at no additional cost to you.
Dad Shirts
Buy him a dad shirt that shows off his new dad status. Who doesn't love a great graphic tee?
Matching Dad and Baby Shirts
Okay, seriously, these are the cutest. Why don't I have 6 million of these matching sets?!
Dad Mugs
Monthly Coffee Subscription
So, you're both lacking in sleep. But, if your guy is anything like mine, he is somehow even more sluggish and tired than I am. The guy just needs some good coffee. I think this is a really thoughtful and fun father's day gift for new or expecting dads!
(P.S. don't tell my man but I'm going to give him a Blue Bottle monthly coffee subscription – you really can't go wrong with a free trial!)
Here are some of the monthly coffee subscriptions I considered gifting to my husband for less than $16 a month:
You can get more details about each of these coffee subscriptions here.
Dad Hat
My husband loves hats. Any and all hats. Maybe your guy is likes hats too? Check out these bestsellers on Etsy.
Baby Carriers for Dads
Both my husband and I were excited to get started babywearing as soon as possible to soak in as many newborn snuggles as possible while still getting things done.
You'll want to get a baby carrier for him for father's day if:
he's expressed excitement about babywearing.
he's unsure (or flat-out nervous) about using a woven wrap but wants to try babywearing.
you know he'll love babywearing once he tries it but he needs a little push.
I would suggest buying one of the following soft structured baby carriers (SSC) for dads:
LÍLLÉbaby Complete All Seasons Baby Carrier (this is what my husband uses and loves)
Tula Free-to-Grow carrier
Lillebaby, Tula, and Ergobaby are the only SSC I see frequently suggested in my favorite Facebook group for babywearing (with woven wraps) enthusiasts like me.
Dad Labor Cards
If you haven't given birth yet, these Dad Labor Cards are a great addition to any of the other gifts but especially if you're going to make a gift basket for his father's day gift.
The Dad's Labor Cards are perfect for him if:
he's a first time dad, and he wants to be really involved but is pretty forgetful if you're both being honest
he's worried that he won't remember how to help you once you're in the thick of labor… and let's be honest, you are too.
you know for a fact that he's clueless about all things labor and delivery
you want to be sure that he doesn't forget any important detail (like, your birth date or severe fentanyl allergy)
14 (3×5) cards full of easy-to-read bullet points for the big day… and hey, they're only $1.99.
Gift Basket Ideas for Father's Day Gifts
I think this is my favorite father's day gift idea on this whole post – I love giving gifts so the more the merrier! You can combine any of the above ideas to make a great gift basket for dads or pick one of the ideas below.
You can make your own basket or grab a super cool baset from TheBroBasket.com or ManCrates.com.
The New Daddy Father's Day Gift Basket:
Matching daddy and baby shirts (look above)
Snacks that he could take to the hospital (jerky, favorite sweet treats, nut mixes, etc.)
One handed bottle opener
Dad hat (ideas up top)
Father's Day Grill Master Basket:
Meat rubs or spices
Special BBQ sauces or marinades
A high-quality meat thermometer
Tell me in the comments: what do you think you're going to buy for Father's Day this year?