I'm excited to welcome my friend Deb to the blog today to share her method of making easy summer dinners. In fact, I've teamed up with a few of my friends to bring you a blog tour. You can find my collection of 10 Easy Meals For New Moms over at myjoyinchaos.com so be sure to visit and say hi! But without further ado, here's Deb with her Easy Summer Dinner Formula.
---
Summer is here and with it all the fun outdoor opportunities and traveling most of us do. It's a great time of year to spend lots of time together as a family, soak up the sun, and adventure together!
But . . . you still gotta eat.
And even if you were good with skipping a meal, those little people are not. Oh, and for those who are pregnant or nursing? No skipping meals for us!
Having a go-to meal strategy for this busy season will keep dinner made, bellies filled, and get you out of the kitchen as fast as possible.
Let's get started!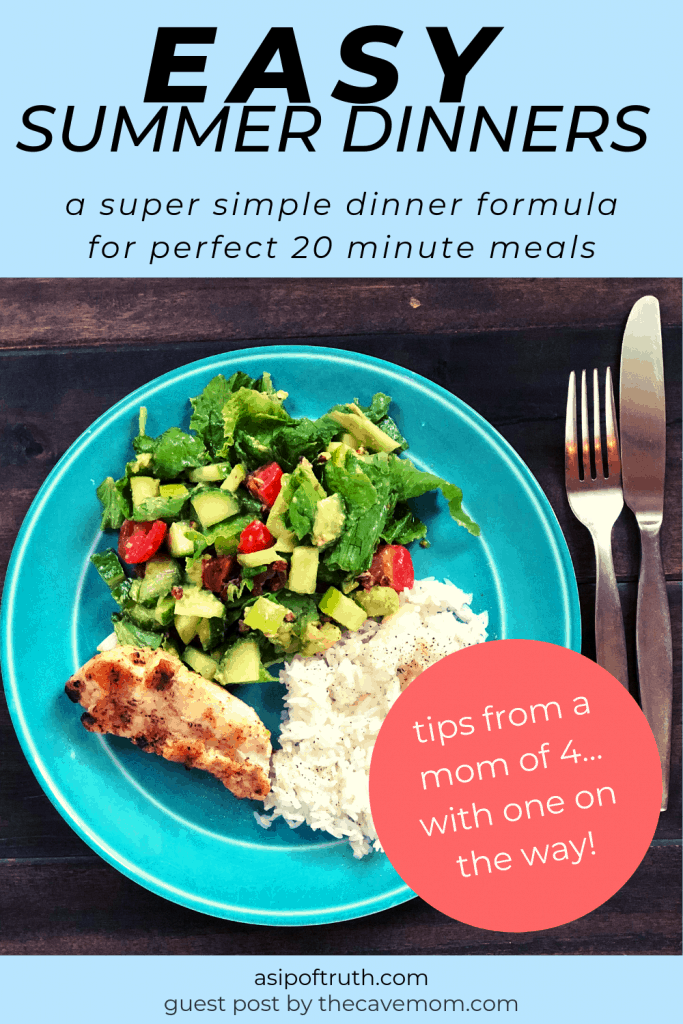 Easy Summer Dinner Formula
Sticking to this basic formula makes it easy to feed your family real food, provide lots of variety, and use as little time and brain power as possible.
Simply changing the seasonings or sauce you use, or swapping out a few salad items gives you a completely different meal – but the bulk of the meal is the exact same! So let's walk through the simple summer dinner formula.
So… are you ready? Here it is.
Chicken + Rice + Salad = An Easy Summer Dinner
First Up: Chicken
I default to chicken tenders, because they cook up fast and are easy to chop for the little kids. You can also use chicken breasts, and boneless chicken thighs are SO good with BBQ sauce! The extra fat on chicken thighs gives extra flavor that can't be beat.
I prefer chicken to beef in this simple summer dinner formula, because it's like a blank slate you can flavor a million different ways.
Ways to Cook Chicken
We grill frequently in the summertime, but all of the following chicken ideas can be sautéed in a frying pan, or baked in the oven. Refer to this handy-dandy chart for cooking times based on the type of chicken you're using and the cooking method.
All the grilling charts I found didn't include chicken tenders, so I'll just tell you that you preheat the grill to 450 degrees, then grill the chicken tenders for 4 minutes per side. Super easy and fast!
Let's flavor that chicken!
For each of these, just drizzle or sprinkle the ingredients over the chicken. There's no need to measure – just keep in mind you can add more salt or sauce at the table. With a little practice, you'll know just how much balsamic vinegar or seasoning blend your family likes, and it saves you the steps of measuring AND washing another dish!
I usually put the chicken in a Ziploc bag, then add the flavorings on top, seal the bag, and squish it around to coat and blend it all together. And again, it saves a dish.
Classic summer:
Sweet Asian chicken:
Olive oil
soy sauce
honey
ground ginger
garlic powder
Basic for grilling:
Olive oil
salt
Trader Joe's 21 seasoning salute
Mediterranean:
Olive oil
salt
balsamic vinegar
honey
Honey-lime:
Olive oil
salt
lime juice
honey
taco seasoning
Maple-mustard:
Olive oil
salt
spicy brown mustard
pure maple syrup
Then: Rice It Up!
I choose rice over potatoes because rice needs zero prep, and cooks much faster than potatoes. Nothing against potatoes, I just don't want to wash and peel and chop and wait. It's summertime, and we need to eat!
If you don't have a rice cooker, you should buy one. (aff. link) They're cheap and make your life easier! But you can also cook it on the stovetop following these instructions.
I cook the rice in my rice cooker, then add some coconut oil and salt. But if I'm in the mood to change up the rice, I sometimes replace some or all of the water with:
Chicken broth
Beef broth
Coconut milk
A little pineapple juice
You can also add flavorings after the rice is done cooking in plain water, like:
Lime juice and fresh cilantro (Chipotle rice!)
Oregano and lemon juice
Lastly: Add A Salad to Your Easy Summer Dinner
This is where you really have so many options! You can choose your salad items based on what's on sale at the grocery store that week, what you picked up at the farmer's market, what is available from your garden, etc. There's no wrong way to make a salad!
I usually make a huge bowl of salad (without any dressing) on Sunday evenings, and then place meal size portions into a smaller serving bowl to flavor and dress each night separately. This saves time during the week and keeps the salad crisp and fresh.
I pick one item from the base category (see below), then mix in a few other veggies, a fruit, and whatever from the other categories I feel like (or need to use up!). You can also choose based on the type of chicken you're making ( a cabbage base would go nicely with the sweet Asian chicken).
Tip: I usually put my baby/toddler in the high chair while I'm chopping items for the salad. Then, I can toss chunks of veggies onto the tray for him. it keeps him happy – and out from under my feet while I'm cooking!
As you might have guessed, I use a formula for the salad, too!
Easy Summer Dinner Salad Ideas
Base:
Romaine
Baby spinach
Kale
Cabbage
Hard veggies:
Bell pepper
Cucumber
Carrots (I prefer shredded)
Fresh peas
Soft veggies:
Fruit:
Sliced strawberries
Fresh blueberries
Diced peaches or plums
Fresh figs
Any dried fruit (raisins, craisins, dried cherries, etc.)
Crunchy topping:
Sliced or slivered almonds
Chopped pecans
Chopped walnuts
Chow mein noodles
Croutons
Cheese:
Crumbled feta
Shredded cheddar
Crumbled blue cheese
Dressing:
Sometimes I make my own dressing, which is easy to do, but I also keep a few bottles on hand for quick use. We really like the Tessemae brand dressings (I discovered them a few years ago during a Whole 30, but we love the ranch so I still buy it!).
The balsamic vinaigrette is my go-to dressing – it's super versatile!
Pulling Your Easy Summer Dinner Formula Together
7 Steps, 20 Minutes:
Start your rice cooking
Preheat your grill or oven (or set out your pan if you're cooking it on the stovetop)
Flavor the chicken
Start cooking the chicken
Add all salad items to a large bowl and toss
Finish the rice (add coconut oil or butter, and any additional flavorings you want)
Plate and serve!
There are many options with this simple summer dinner formula. It's quick and easy to pull together night after night while still keeping it new and interesting.
Give it a try and then tell me what you think!
What about you? Have you ever used a formula to cook meals before?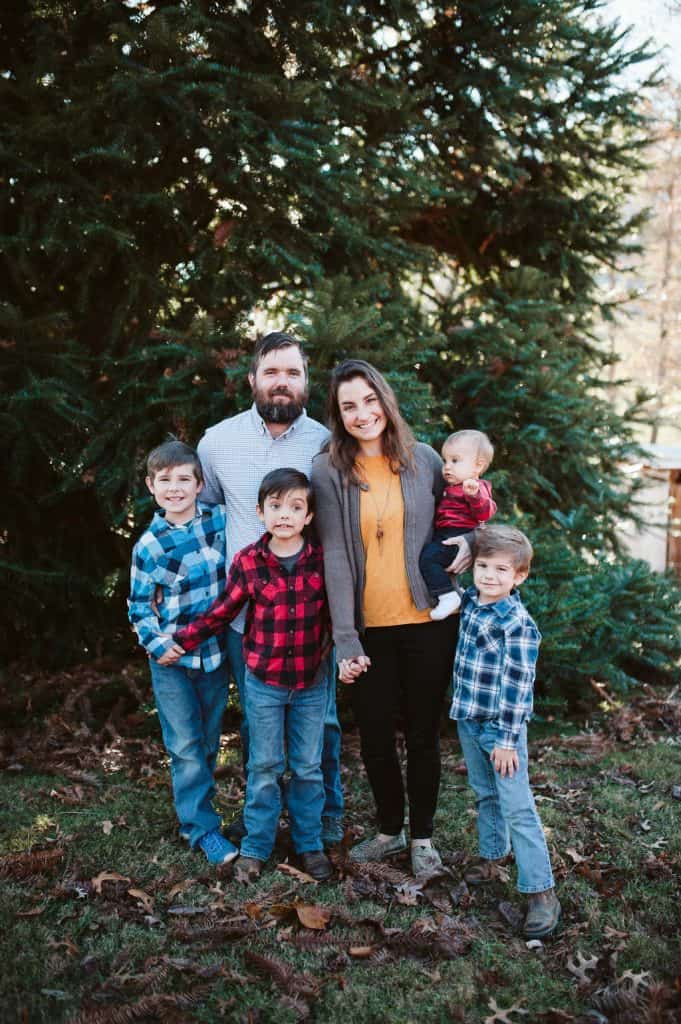 Deb is a wife, and mom to four boys (and a little girl on the way!). She loves cooking, but not washing the dishes. You can find her at thecavemom.com, where she blogs about schedules, routines, homeschooling, and how moms can thrive at home.