This post contains affiliate links related to natural birth, which means I receive a small commission, at no extra cost to you, if you make a purchase using this link. I only recommend what I love, trust and use.
7 Things You Need To Know About Natural Birth
So, you want to have a natural birth but you're not sure where to get started? Perfect! I believe natural birth can be a very empowering experience. I loved my natural birth and believe that my confidence and peaceful spirit came from knowledge. I researched SO much when I was pregnant and that helped me to feel prepared for the birth of my firstborn.
I have created a printable list of things that you should research. Use the notes section to jot down your decisions on each item. Talk everything over with your partner and/or doula! A strong labor team is a good labor team.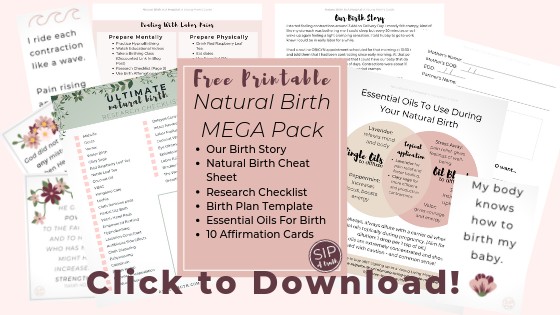 I am in no way a medical professional; the advice on this blog is to be viewed as opinion only and NOT to be used in place of a medical professional. Please – consult your medical provider for any and all health needs or questions.
Things To Research For Your Natural Birth
They say knowledge is power, and so it is! I had a wonderful labor and delivery experience with my daughter. Getting to make informed choices for our birth was very empowering for us. I researched each of the items on the printable list until I felt confident with the path we were choosing for our birth.
No woman's birth or body are the same, therefore, no woman's birth plan or birth story ends up the same. I didn't write this article to tell you what we chose for our birth but to guide toward what you should be researching for your birth.
What is HypnoBirthing?
HypnoBirthing is a method of natural pain and anxiety relief during labor and delivery. It basically is a program that teaches you how to use deep breathing and visualization along with positive affirmations to cope with pain and fears during birth.
While I was pregnant, I read through different positive birth affirmations that resonated with me. During labor, I ended up finding comfort through ocean-related affirmations. Each contraction I would visualize myself riding the pain like a wave. I focused on my breathing and tried to match it to the sound of waves crashing on the shore, slow and steady. The affirmation, "each wave brings my baby closer to me", repeated in my mind throughout labor.
I highly recommend positive affirmations and visualization! Some women enjoy memorizing scripture to prepare for birth, some utilize beautiful affirmation cards (here is my free 20 pack) to view during labor.
HypnoBirthing will help you to find what works for you!
Read more about HypnoBirthing on their website.
What is vernix?
Vernix is a waxy, white substance that forms on your baby's skin around 20 weeks gestation. It is there to protect your baby's skin from the amniotic fluid. Without vernix, our babies would come out looking like sweet little raisins.
Scientists have identified lipids, amino acids, proteins, antibacterial, and antimicrobial compounds including:
wax and sterol esters
ceramides
squalene
cholesterol
triglycerides
phospholipids
and amino acids, asparagine and glutamine
Vernix fights germs, protects against bacteria and helps control temperature. Babies born early are more likely to still have a thick layer of vernix upon delivery.
Read more about vernix on Mama Natural's article, "Vernix: Don't Wash It Off, Rub It In"
What is water birth?
Water birth is when a mother labors and gives birth in water. Many hospitals and birthing centers now offer tubs in delivery rooms. Some mothers like to labor in the water but want to get out right before birthing. While others prefer to get in the tub moments before delivery. Each mama should do what feels right to her during labor and delivery!
We really wanted to labor in water (our hospital requires you to get out before delivery) for the birth of our daughter. In between contractions, I would tell my husband that I wanted to go to the hospital soon so that I could get in the tub. Baby Girl had other plans! I delivered shortly after arriving at the hospital and didn't have time to get in the tub.
The benefits of water birth are backed by science (and thousands of women who have had successful water births):
Helps facilitate feelings of calm, safety and focus. Mothers often feel relaxed and even rested during water births.
Reduces blood pressure, c-section rates and the need for interventions
Prevents tearing and relaxes the pelvic floor
Comfort and mobility, much easier to move around in the water and get comfortable.
May lead to shorter labor
Read more about water birth on Mama Natural's article, "Is a Water Birth Right For You?"
If you're delivering at a hospital, don't forget to ask what their polices are on water births.
What is placenta encapsulation?
Many animals consume their placenta after birth to nourish their bodies with the nutrients of the placenta. It is becoming more common to hear that women are consuming their placentas as well. Some women are actually eating it raw or cooked, either in a smoothie or cooked like any other piece of meat. Mostly, women are choosing to have their placenta encapsulated.
Basically, placenta encapsulation is a process in which your placenta is dehydrated, ground then put into capsule form for ingestion.
Some of the benefits of ingesting your placenta:
Boost in energy
Increased milk production
Shorter postpartum recovery time
Balance in hormones
Relieved postpartum blues and a decrease in effects of postpartum depression/anxiety
Decrease in effects of PMS (premenstrual syndrome)
Increase in iron
Natural pain relief
(Source)
Watch this 8 minute video to learn more about placenta encapsulation.
---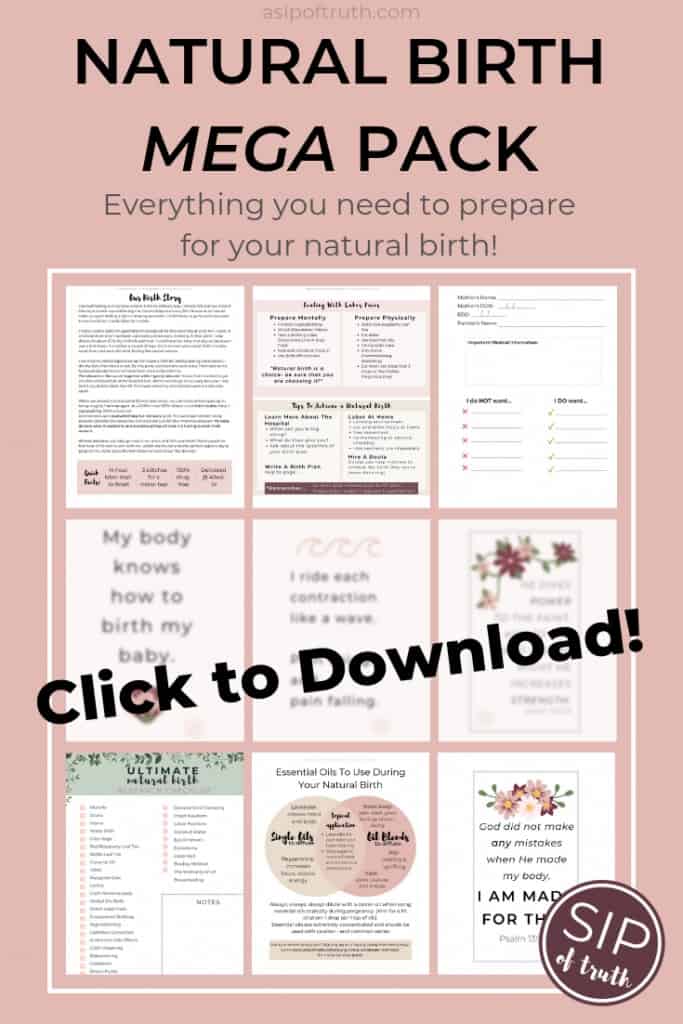 ---
What is an episiotomy?
Episiotomy is a surgical cut that your doctor makes at the opening of the vagina to provide more room for baby. Episiotomies were commonly done up until the 1980's when new studies were conducted. The studies showed that in most cases episiotomies did not help mom or baby but could actually lead to negative outcomes for the mother.
Evidence proves that an episiotomy won't prevent further tearing and could even cause more tearing for the mother.
Mothers have found that receiving an episiotomy lead to a longer and more painful recovery than a natural tear.
Episiotomies are a surgical cut, therefore, are deeper and most likely longer than a natural tear would be.
Read more about episiotomy in UTSouthwestern Medical Center's article, "Why episiotomy during labor can hurt more than help" or Mama Natural's article, "Episiotomy: Why is This Still a Thing???"
What is Kangaroo Care?
Kangaroo care is simply skin to skin contact with your baby. Skin to skin time with your baby is great for both mom and baby! We loved that our hospital encouraged kangaroo care for one hour after birth. Ask your hospital what their policy is and be sure to let them know that skin to skin contact is important to you.
Benefits of kangaroo care:
Helps baby adapt and regulates body temperature
Encourages healthy weight gain for baby
Better and more efficient breastfeeding, increased milk supply
Healthy heart rate and respiration
Boosts immune system
Reduces baby's stress and pain, leads to better sleep
Prevents baby blues, postpartum depression and anxiety
Helps dad and baby bond
Read more about the benefits and studies conducted on Parent's article, "Kangaroo Care: The Benefits of Skin-to-Skin Contact".
Lastly, what is a doula?
A doula is a trained professional who helps expecting mothers before, during and after birth to help her have the best birth possible. Doulas can be an incredible part of your laboring team.
A doula does NOT replace your birthing partner.
They attend to both physical and emotional wellbeing of the mother.
Studies have shown that doulas help overall wellbeing of the entire family.
Doulas are very informative and want what is best for the entire family. She is your advocate.
They also support the birthing partner; whether that is your husband, mother, sister, boyfriend, grandmother, etc.
Doulas serve in homes, hospitals, and birthing centers.
Read more about doulas on DONA International's article, "What is a Doula".
The Last Thing You Need to Know About Natural Birth
I think that no matter what you decide to do (or not do) for your birth, you should know why you're doing it. Research until you feel satisfied with your educated decisions for labor and delivery. Ask friends, family, and professionals to help you along in your quest for knowledge. Knowledge is power and will lead to a confident and peaceful birth.
Get Everything You Need to Prepare for Your Natural Birth in the Natural Birth Mega Pack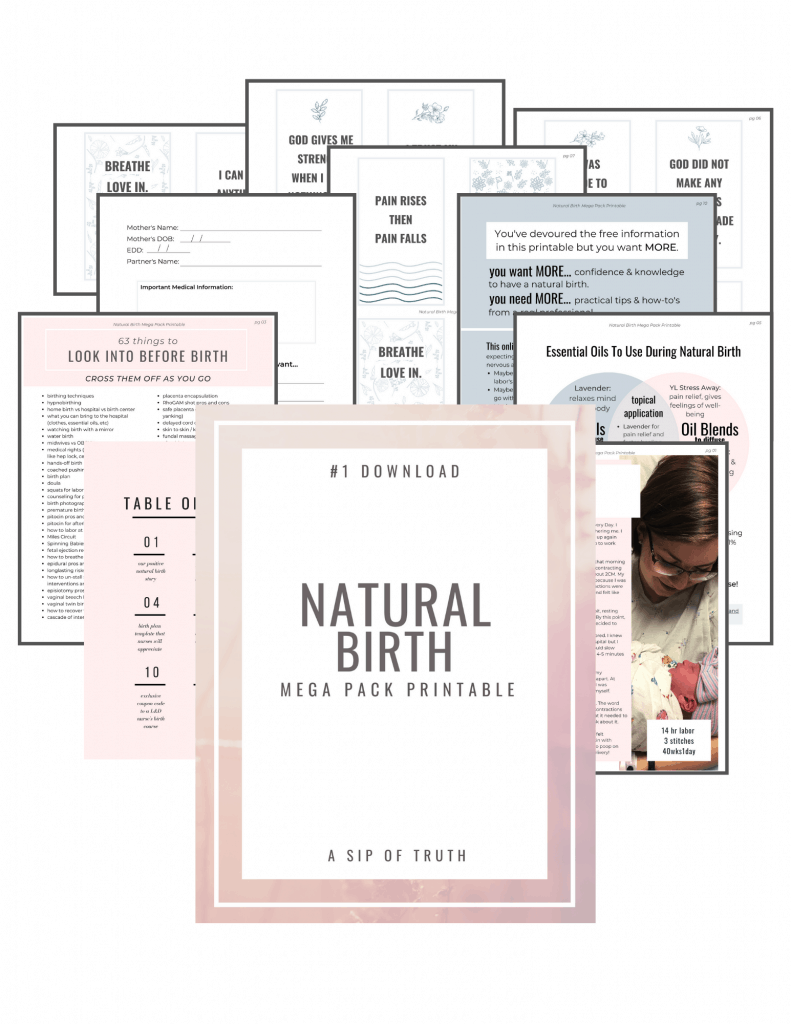 ---
Other Posts about Natural Birth: