Real talk, I started writing this blog post about my cleaning schedule thinking that I had a great one.
It didn't take but 2.5 seconds on Pinterest to make me feel like I should curl up somewhere in my dirty apartment. No wonder we all think we have dirty houses!
It's because us Pinterest bloggers are posting these crazy (basically, too hard to achieve) weekly cleaning schedules.
Keep scrolling down to see how I keep my apartment clean. (somewhat clean, that is, compared to the better housewives of the internet)
Scroll all the way to the bottom to discover why I'm burning my cleaning schedule along with my to-do lists.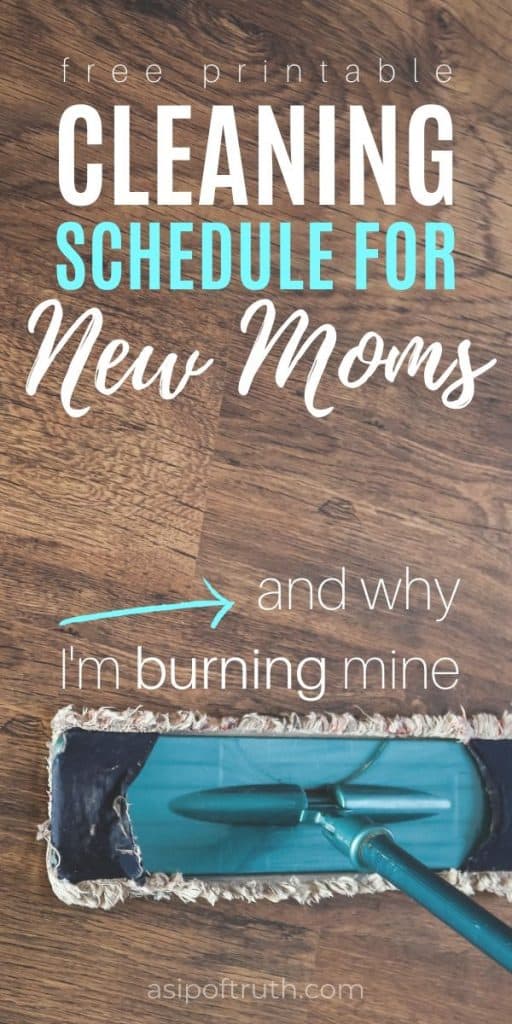 Realistic Cleaning Schedule For New Moms & Why I'm Burning Mine
So, the bottom line of keeping your house or apartment clean is to do a little every day. This is especially true if you're short on time or have kids that love to un-clean everything.
Daily Cleaning Schedule
Make bed
Do dishes
Straighten toys at the end of the day
De-clutter hot spots (ahem, our dining table)
Laundry – wash, dry and fold
General pick-up
Weekly Cleaning Schedule
Monday
Clean microwave
Meal prep for the week's lunches and sometimes breakfasts
Tuesday
Wednesday
Thursday
Meal Plan
Update grocery budget
Friday
Clean bathroom

Change towels
Clean toilet
Wipe down counter
Clean mirror
Straighten up
Empty trash

Grocery shop
Saturday
Grocery shop (if Friday doesn't end up happening)
Monthly Cleaning Schedule
Mop floors
Clean fridge
Dust all surfaces
You can click here to receive the free printable. I've included a blank schedule so that you can make a cleaning schedule that works for you.
5 Tips for Keeping a Clean and Tidy House as a New Mom
Tip #1 Clean as you go.
Make breakfast? Clean up the kitchen after.
Did a craft with your kids? Clean up after you're all done before getting out the next thing.
Changing into your PJs? Put your dirty clothes straight into the hamper or refold/hang if still clean. (sniff test totally works for this)
Tip #2 Go to bed with a clean kitchen.
Or, at least a mostly clean kitchen with the dishwasher running. This will help cut down on stress first thing in the morning during breakfast time.
Bonus: you won't have as many dishes to do tomorrow.
Tip #3 Have less stuff.
Less stuff for kids: If there is only one basket of toys available at once, even if the kids make a huge mess, it only takes a few minutes to pick up because there aren't very many to begin with. Rather than if they get out ALL the toys and the living room is trashed and cleaning up seems overwhelming for everyone involved.
Less clothing: You don't have to wash as many clothes. If you're doing laundry every day, you'll never run out of clothes to wear and the hamper won't get as full and therefore intimidating to tackle.
Less in the kitchen: If you don't own as many dishes, pots, and pans, you will be forced to stop and clean dishes as you go which keeps a tidy and clean kitchen.
Less knick-knack type items: Less stuff to dust means less time dusting.
Tip #4 Give every item a home.
Find a place for everything in your home or apartment. Be consistent with putting things away in the designated location.
Put things away as you go. I guarantee you that your home or apartment will be less cluttered.
Related Post: How to Organize For New Baby Like a Boss
Tip #5 Keep your cleaning schedule checklists short.
Don't make cleaning hard. Otherwise, you won't do it! You might not have time, motivation or the energy to keep up with an elaborate cleaning schedule.
For example, don't deep clean the bathroom every time you clean it. It takes me under 10 minutes which is crucial for me to be able to keep up with cleaning every week. Each week I only:

Wipe down the sink and countertop
Clean the mirror and toilet
Change towels

I do deep cleans as needed in each room of the house. (I don't put that on my cleaning schedule.)
Why I'm Burning My Cleaning Schedule
As I've been working on this post, I also started reading a book called Hands Free Mama. (aff link) The book is about putting down distractions (technology, to-do lists, perfectionism) to grasp what truly matters.
There was a section I read regarding to-do lists that impacted me. Here are the two simple reflection questions that have changed everything for me.
What do you consider a valuable use of your time?
Does your daily agenda reflect this?
My primary goal is to be a devoted disciple of Christ, a loving wife, and a nurturing mother.
Yet, most of my day doesn't reflect that.
In Mothering: Most of my day is spent occupying/distracting my toddler so that I can 'get this done real quick' or 'catch up on that'. In reality, she is eating meals alone, playing by herself for hours on end, and just wishing I would be with her.
Spiritually: Any time that I'm spending with God right now is squeezed in here and there; yes, I know that I am a new mom so time with the Lord will look a little differently right now- BUT it shouldn't be that my only time with God for the entire day is under 15 minutes long and is halfhearted.
As a Wife: And, after a whole day of rushing and doing, I have nothing left to give my husband who deserves more of me.
I keep thinking that I need to wake up sooner so that I can fit it all in. Or, maybe I need to have a better XYZ so that I can be more efficient. (like, a new mop or bigger washing machine)
But, what I'm coming to think is that maybe I don't actually need to keep up on all of the things on my to-do list.
Would anything really happen if I didn't change the sheets every week?
What if I didn't mop once a month?
Dust never killed anyone… did it?
It makes me cringe to even type that out because I LOVE a tidy and clean home. I actually even enjoy cleaning. So, it seems crazy to me that I'm considering cleaning less. Especially, if I compare myself with others after looking at some of the other Pinterest mommies cleaning schedules.
All in All…
I want to be there 100% for my daughter. I want to take her to the playground for as long as she wants instead of mopping the floors because my cleaning schedule told me to.
I want to enter into God's presence without my internal do-er timer screaming at me to do more. I want to be with Him and soak Him in through His word and His presence during heartfelt prayer instead of throwing up quick requests demands.
I want to sit and relax in the evenings with my husband instead of catching up on folding laundry.
What do you think?
Is my new train of thought crazy or interesting? Does living a Hands Free life intrigue you, too??