Mom-to-be, you're in one of two boats.
Either, you're wondering are childbirth classes really necessary because you don't really want to spend the money on something useless.
Or, you want to take a natural birth class but just honestly can't afford it.
Let's talk through your options for birth education and then you can decide what to do next.
Many of the clickable links on this page are affiliate links. That means, I receive a small commission for each item you buy through my link at no additional cost to you.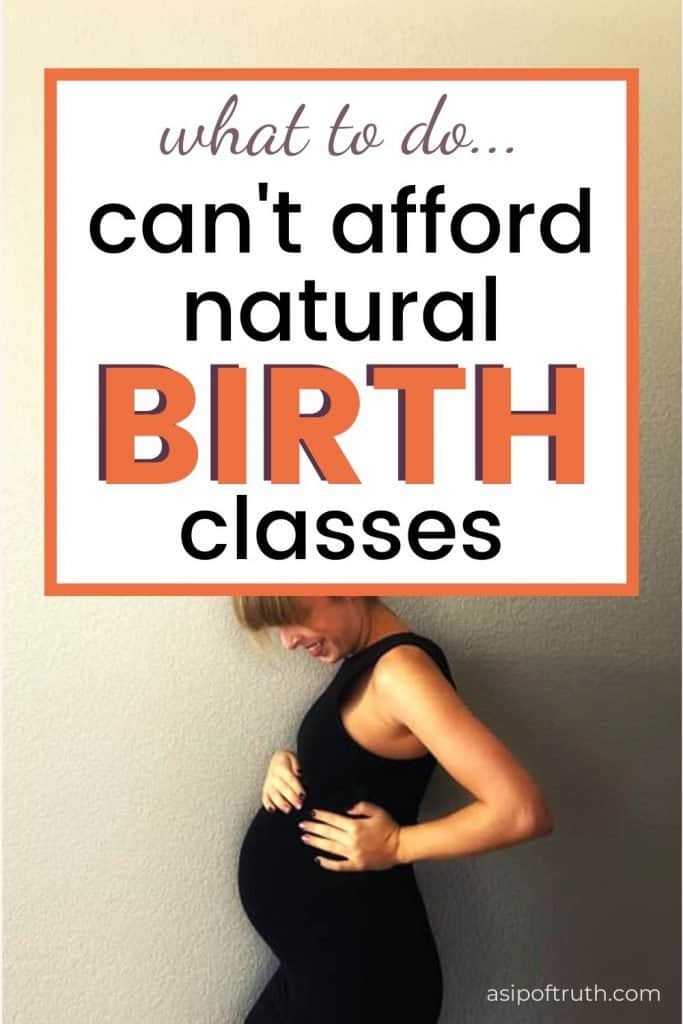 I Can't Afford Natural Childbirth Classes – But, Are Childbirth Classes Really Necessary?
Yes and no. This really depends on your personality, health history, and what your gut tells you. Seriously.
Lots of experienced moms will tell you that you don't need to take childbirth classes. But, lots of first time moms (or first time having a natural birth) will go into birth with fears and worries.
Some experienced moms (like me) say that taking birth classes helped them and/or their partners. Sooo… yeah, that's clear as mud.
This is the advice I'll give you:
If you're feeling like childbirth classes aren't necessary because you feel confident about natural birth, your body's abilities, and your partner's helpfulness – then it is probably not necessary.
If you're feeling unsure about some aspects of natural birth but overall you think you'll be able to enjoy the ride – then just load up on free resources (listed below.)
If you're feeling unsure of the whole process of birth, you're afraid of the pain, you're not sure that your partner knows a single thing about birth, and you just want the peace of mind of having someone tell you all the things about natural birth – take this cheap (but high quality) online natural birth course.
Let's walk through some of your options for at-home birth education.
Free Natural Birth Resources for First Time Moms
These resources will help you prepare your mind, body, and birth partner for a natural birth. I personally used all of these resources during pregnancy and had a successful (and enjoyable) natural birth. These resources were great building blocks and complimented the local mini childbirth class that my husband and I attended.
Birth Education YouTube Videos:
Other Resources for Birth Education When You Can't Afford Natural Childbirth Classes:
The Only Natural Childbirth Class You Should Buy (*it's only $39)
When I was pregnant with my first, I knew I wanted to have some sort of formal birth education to help me achieve a natural birth. The only problem was that birth education fell way, way down on the list of things to buy. At the time, there was no way I would be able to pay nearly $300 for the #1 online birth course.
Like, I'm over here trying to figure out how we're going to buy the baby's car seat, crib, and a stash of cloth diapers. I really wanted to take Mama Natural's birth course but it just wasn't possible.
Maybe that's where you are, too.
You want to feel prepared and confident for birth.
You think it will help you tremendously (ahem, you're right) to educate yourself properly about natural birth.
But, you know you can't afford natural birth classes.
Enter the Birth It Up online natural birthing course.
This course is perfect for moms that want to have a natural birth (which the course defines as birth without an epidural) and just aren't sure they can.
I recommend this online natural birthing course to:
First time moms that want a little hand-holding while they're learning about giving birth for the first time. (Yep – that was me!)
Moms that have had a C-section and want to achieve a natural vaginal delivery (VBACs are possible)
Second (or insert another number here) time moms who have had an epidural before but you want to go without one now.
Moms that want to feel 100% ready for a natural birth but think they can't afford natural childbirth classes (Ha, see what I did there? That's YOU!)
The course in total will take less than a day to complete. It is broken down into two main sections.
Education: learn about the birth process and what happens when you go into labor. You'll learn how to get through natural birth and get tips for pain management from a labor and delivery nurse (and the course creator).
Excitement: find confidence in your birth knowledge and get super excited about giving birth naturally. And, of course, to meet your new baby.
What am I actually paying for?
30+ Lessons with Teaching Videos
Mommy Labor Nurse's Ultimate Guide to Labor and Delivery Printable
74-page ebook of the video course
Access to private Facebook group (okay, so I'm in a lot of birth/pregnancy groups because I like that sort of thing… like a LOT. I have yet to experience a group as supportive, encouraging and helpful. You'll also get to read other mom's positive birth stories in the group which is a huge perk!)
Who made this course?
Liesel Teen is a labor and delivery nurse, mom to a little boy (and one on the way!), and an Instagram birth educator. She has been practicing as an L&D nurse for 6 years and has helped many, many women through their birth.
She has a very friendly and warm personality. Working through the course feels like talking to a friend rather than listening to an audio version of a medical textbook.
If you're not sure about enrolling in Birth It Up, at least follow @mommy.labornurse on Instagram for her free birth tips.
Is an online birth course really enough? Does this course replace a typical prenatal class?
Yes!
It's geared towards moms that want to have a natural birth but still includes important information about epidurals and pharmaceutical methods of pain management. And, it's done in an unbiased, informational way. So, the course isn't going to make you feel like epidurals are the devil and you're a total loser if you have a c-section. Phew!
Why is this course so much cheaper than other online birth classes?
I love this question. It's the same thing that I thought when I first discovered Birth It Up.
This question is answered on the Birth It Up official page…
"Because I care about you getting this information, not my paycheck. I want to help as many women as I can, with the knowledge that I've learned as an L&D nurse!
Birth classes should be much less expensive than they are, because EVERYONE needs this information, not just the people who can afford expensive classes.
I never want anyone to leave this page wishing they could afford natural birth education."
You know what's great about Liesel (course creator)? She really does mean what she says here. Liesel is passionate about birth education for ALL. She is a real person who has a real genuine interest in helping expecting moms to have a great birth experience.
I WANT TO ENROLL IN Birth It Up NOW
So, New Mom that Can't Afford Natural Childbirth Classes…
You've got options. Thank God for that!
Take a class, don't take a class. Use free online resources, don't use them. Enroll in Birth It Up, or don't. Lean into your instincts and make a decision that works for you.
Most importantly, make the decision that you feel will make you feel like an absolute birthing goddess when the time comes.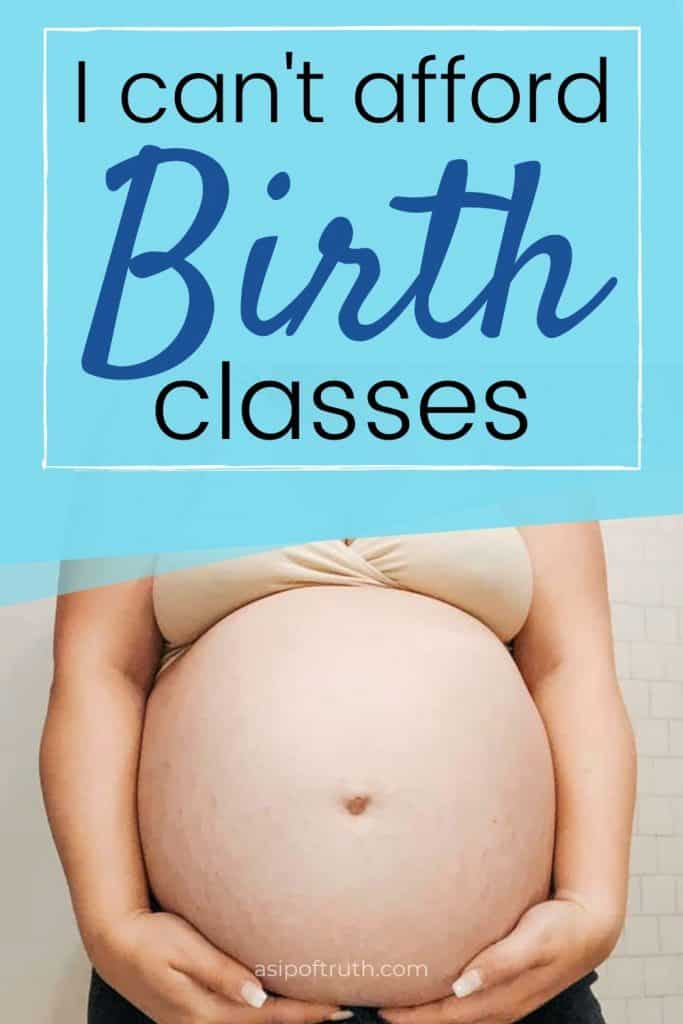 Read Next in the Natural Birth Series…