This is the most awesome-est list of quick healthy breastfeeding snacks for new moms on the web.
Forreal. I'm going to show you the easiest, healthiest and most delicious snacks for postpartum breastfeeding moms.
Like, none of this "oh, here's an easy 12 ingredient snack that you can make. It will help boost milk supply and make your eyelashes more beautiful and make your husband taller and… The best part is that it only takes 25 minutes to make!"
*insert an eye roll and a "bless their heart" here*
You've got like 15 minutes until that sweet baby of yours wants to nurse AGAIN and you are hungry as all get out. New moms just don't have the time or the brain space to make these fancy snacks!
Girl – I get it!
Let's get snacking.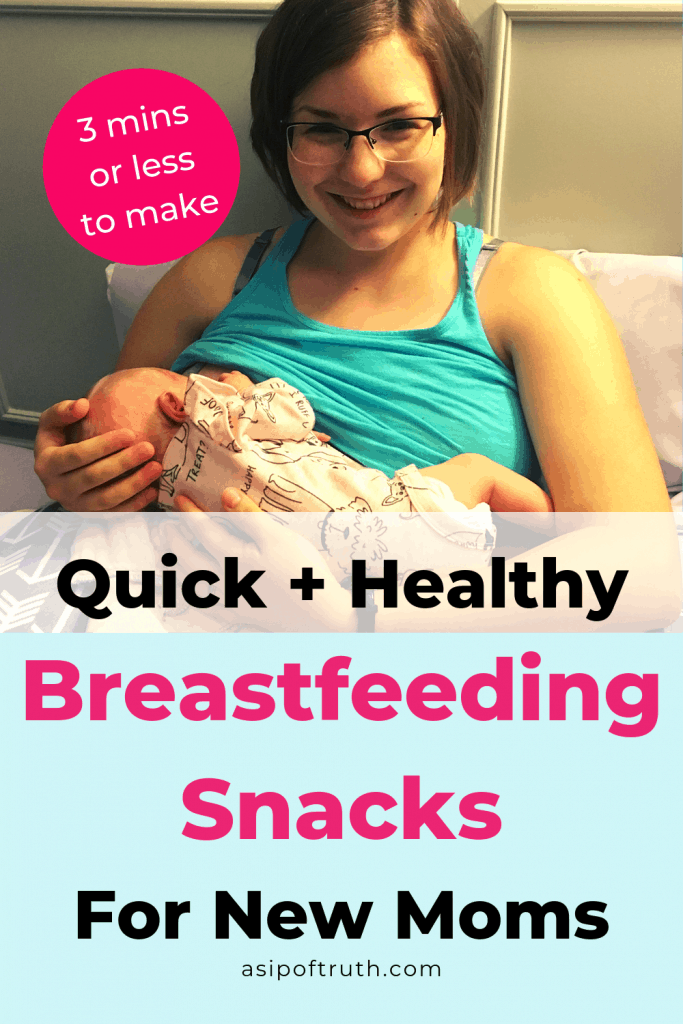 Quick, Healthy Breastfeeding Snacks For New Moms
Real quick… I know you're ravenous and want to see the breastfeeding snack ideas BUT. I want you to know what I think makes a good nutritious snack for new nursing moms.
Fat + Carbs + Protein = Healthy Breastfeeding Snack
Make sure that you're eating at least every 3 hours to fuel your body well. Everyone tells you during pregnancy that you're eating for two… I guess they've never nursed a baby.
Breastfeeding moms should have an extra 300-500 calories per day. (Source) Well, 300-500 "good", healthy calories, that is. Eating often and eating nutrient-dense foods will boost your milk supply and make you feel a whole lot better overall while you transition into motherhood.
So, without further ado. Here is the most awesome-est list of quick healthy breastfeeding snacks for new moms on the web that I promised you.
Related Post: 3 Steps to the Perfect Pregnancy Diet (aka how to eat well during pregnancy and nursing)
6 Breastfeeding Snacks For New Moms (With Zero Prep)
This is a list of breastfeeding snacks that are great for those blessed middle of the night feedings, to bring along to the hospital, or to throw in the diaper bag for a morning out running errands.
Trial Mix – the kind with nuts and dried fruit… and, of course, some dark chocolate chunks.
Granola Bars – my faves: KIND Bars, Cliff Bars, Luna Bars, RX Protein Bars.
Cheese Stick and Fruit – keep it easy, don't cut up the fruit.
Cheese Stick and Veggies – mom hack: buy the veggies pre-cut and washed.
Chia Squeeze Pouches – my fave: MammaChia's Blackberry Bliss (buy in bulk with this aff link).
Individual serve greek yogurt – I LOVE Oikos stevia-sweetened Triple Zero yogurts.
8 Breastfeeding Snacks That Need a Tiny Bit of Prep (Less than 3 Minutes)
'Cause new moms don't typically have more than 3 minutes to make a snack for themselves. Especially in the early days when you're feeding the baby round. the. clock.
Turkey and spinach wrap – keep it simple! Turkey, a smear of Laughing Cow Cheese, Spinach, and Italian seasoning.
Cheese and crackers
Peanut butter and jelly sandwich – bonus points if you have time to toast it!
Deli meat and cheese roll-ups – as easy as it sounds, roll up a cheese stick in the deli meat of your choosing. I love to eat this with pickles on the side.
Avocado toast – sprinkle with Trader Joe's Everything But The Bagel seasoning to make your heart sing.
Apple and peanut butter
Toast with cream cheese and all-fruit jelly
Yogurt in many delicious ways – use greek yogurt for extra protein.

Mixed with fruit or with fruit on top
Yogurt with granola
Topped with fruit AND granola
Peanut Butter Whip – recipe below
Peanut Butter Whip – A Sip of Truth Original Recipe
1/2 Cup Plain Greek Yogurt
1 teaspoon sugar-free natural peanut butter
sprinkle of cinnamon
1 doonk THM Pure Stevia (or honey to taste)
Mix and enjoy! (add sliced bananas to really make your heart sing)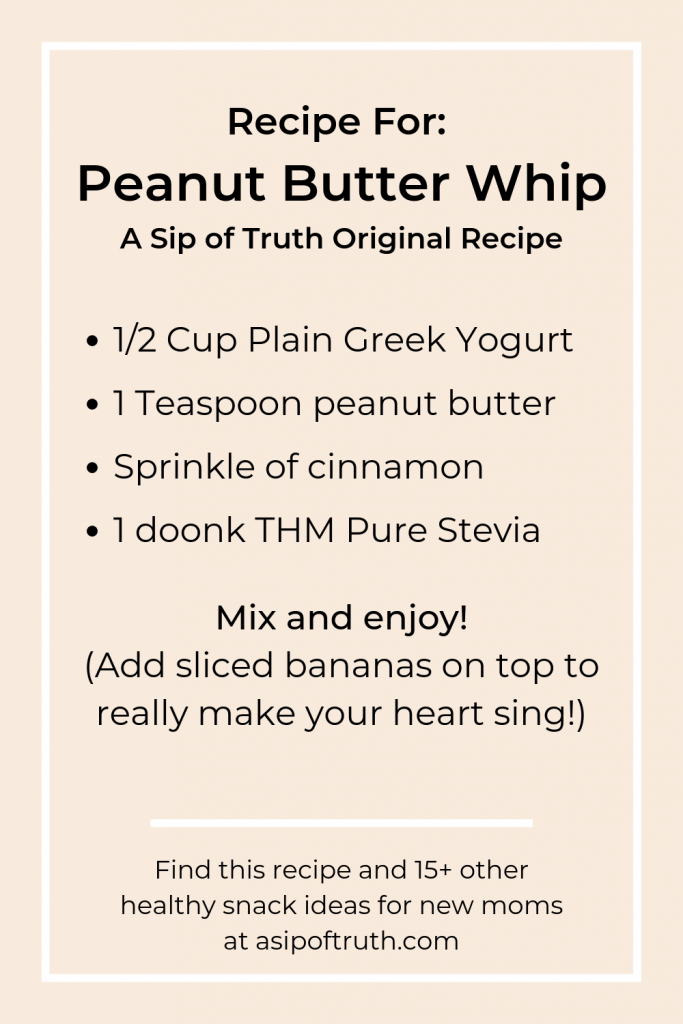 3 Make Ahead Breastfeeding Snacks For New Moms
Baked Oatmeal Cups: this recipe is quick to make and it's easy to eat one-handed – SCORE! Here are some of my favorite variations:

Substitute 1 Cup applesauce in place 2 bananas – sometimes I just don't have time to mash the bananas.
Substitute 6 doonks Trim Healthy Mama stevia instead of Gentle Sweet blend (this is a money-saving swap)
Omit blueberries and eat plain (without toppings or mix-ins).
Add in shredded coconut, chocolate chips, strawberries, peaches, and/or banana. (Raisins do NOT work well in this recipe.)
Serve with greek yogurt.
Serve with a splash of almond milk and sliced strawberries. My fave!

Energy Bites: I am absolutely obsessed with this cookie-inspired recipe or I use this recipe to boost milk supply.
Muffins: freeze and pull out one at a time to nuke in the microwave
So, there it is. 17 (ish) awesome healthy and easy breastfeeding snacks for new moms!
Related Posts: